Vegan Blueberry Ginger Danishes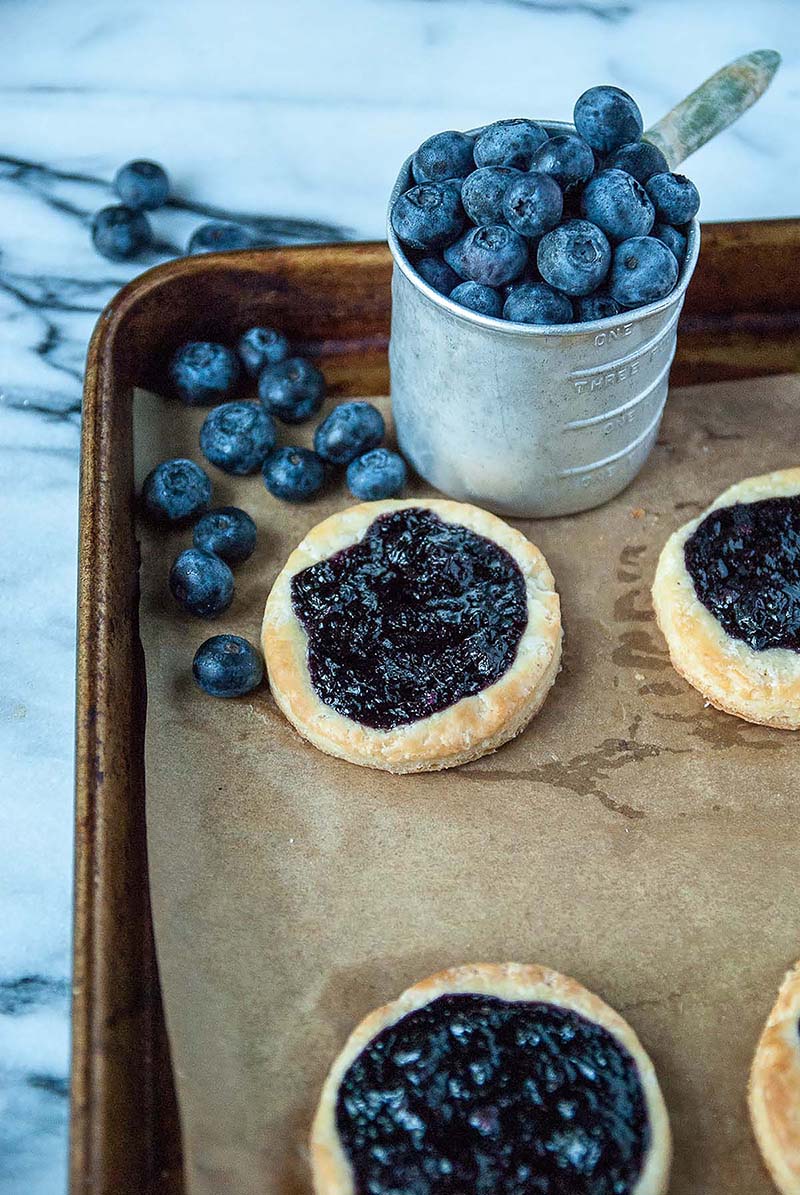 ⅓ cup cashews, blended with ⅔ cup water (110-115°F)
1 package (2¼ tsp, ¼oz, 7g) RED STAR Active Dry Yeast
2¼ cups all-purpose flour
2 Tbsp cane sugar, plus 1 tsp
1 tsp salt
1 cup, plus 3 Tbsp solid coconut oil
2 cups fresh blueberries
2 tsp cornstarch
4 Tbsp cane sugar
½ tsp dried ginger
2 Tbsp water
Powdered sugar, for sprinkling
Blend together the cashews and water in a high powdered blender. Transfer to a small bowl. Add the yeast and 1 tsp sugar and let sit for 10 minutes.
In a stand mixer using the dough hook attachment, combine the flour, 2 Tbsp cane sugar, and salt. Gradually add in the 3 Tbsp of solid coconut oil, mixing on low until the coconut oil breaks into small pea sized pieces. Add in the yeast/cashew cream mixture and continue to mix on low until combined and dough starts to form. Remove from mixer and wrap in plastic wrap, chill in the refrigerator for 90 minutes.
After the dough has chilled, flour a surface liberally and roll the dough out into a 12x24-inch rectangle. Spread the remaining cup of coconut oil over the surface of the dough. Starting wth the long edge, fold the left ⅓ of the dough over the middle and then repeat with the right ⅓ of the dough over the middle. Roll the dough out again into a 12x24 rectangle and repeat the folding process. Wrap in plastic wrap and refrigerate for 1 hour. Repeat the rolling and folding process 2 more times and refrigerate one last time for at least 4 hours or overnight.
After the dough has chilled, roll out into a 9x18 inch rectangle and cut out into 3-inch round circles, using a doughnut or cookie cutter. Repeat the rolling and cutting process until all the dough has been used. Transfer the rounds to two parchment lined cookie sheets. Freeze for 5 minutes. While pastries are the in the freezer, make the blueberry filling (see below).
After the pastries have chilled, push down slightly in the middle of each Danish with a measuring cup to make a circular indent for the filling.
To make the blueberry filling: In a saucepan over medium heat, combine the blueberries, cornstarch, cane sugar and water. Cook, stirring frequently and mashing a few of the berries with a spatula, until blueberries have started to break down and the mixture begins to thicken, should take 3-5 minutes. Sauce should be thick and still have about ⅓ whole berries left. Remove from heat and set aside.
Preheat the oven to 375°F. Evenly spoon out the blueberry filling onto each Danish, using about a tablespoon per circle.
Bake for 12-15 minutes, until edges of the pastries are golden brown and done. Sprinkle with powdered sugar and serve. These are best eaten on the first or second day.
Recipe created by Heart of a Baker.
Recipe by
Red Star Yeast
at https://redstaryeast.com/recipes/vegan-blueberry-ginger-danishes/