Pickled Stone Fruit Pizza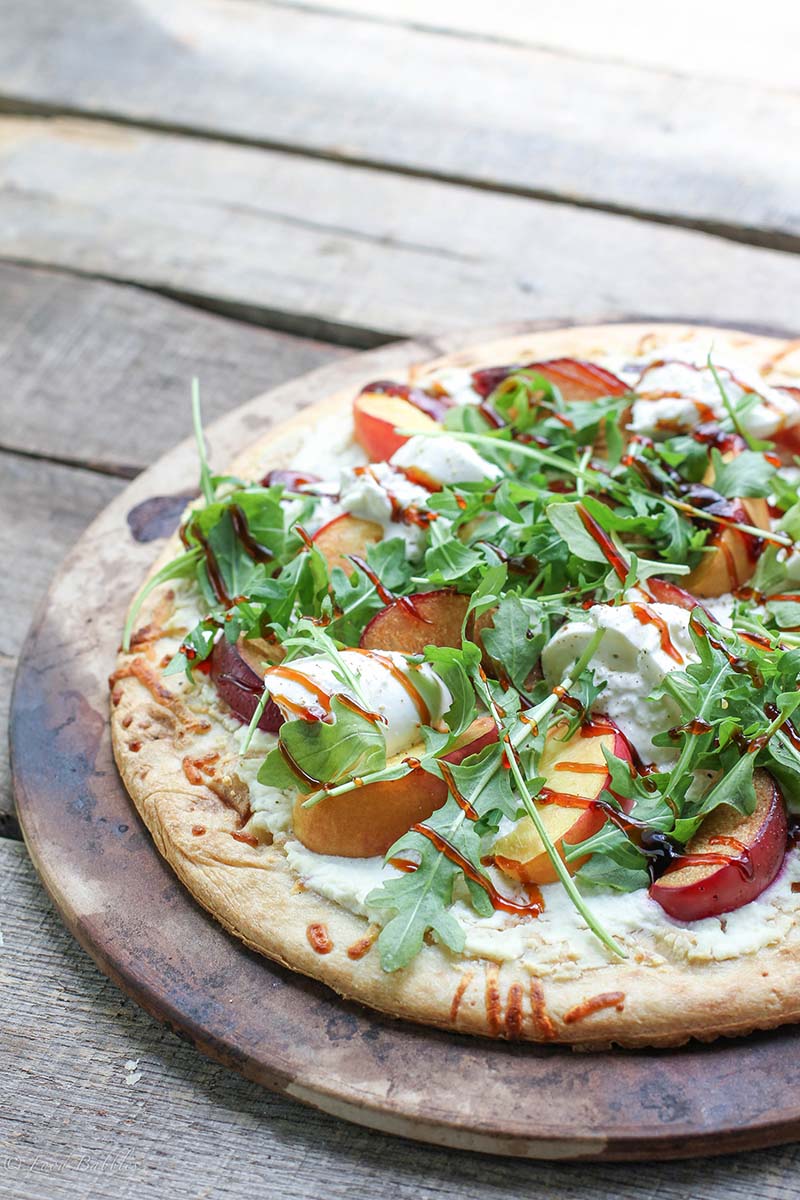 2 cups cider vinegar
¼ cup sugar
1 tsp coriander seeds
1 tsp mustard seeds
2 tsp whole black peppercorns
2 cloves garlic, crushed
2 sprigs thyme
1 cup water, for boiling
2 peaches, pitted and cut into 8 wedges
2 plums, pitted and cut into 8 wedges
1⅓ cups water, warm, 110-115°F
1 package (2¼ tsp, ¼oz, 7g) RED STAR Platinum Superior Baking Yeast
3 cups all-purpose flour, plus more for dusting
2 tsp salt
1 egg
Olive oil
2 cups ricotta cheese
Arugula
1 pound mini burrata balls, quartered
Balsamic reduction
Freshly cracked black peppercorns
Flaky sea salt
In a large saucepan, bring vinegar, sugar, spices, garlic, thyme and 1 cup water to a boil. Add fruit and stir a few times. Remove from heat and set aside. Let cool completely. Strain and discard liquid. Place in an airtight container and refrigerate until ready to use.
Combine water and yeast in the bowl of a stand mixer fitted with the paddle attachment; let sit until foamy, about 5 minutes. Add flour, salt, and egg and mix until combined. Switch paddle
attachment to a dough hook and knead until smooth, about 5 minutes. Place dough into a greased bowl and cover with plastic wrap. Set at warm room temperature until puffed and doubled in size, about 60-90 minutes.
Preheat oven to 400°F with a pizza stone inside for 30 minutes. Once oven and stone are well heated, deflate dough and split into two even balls. Stretch and roll one ball of dough out
into a large, thin circle on a lightly floured surface.
Brush dough with olive oil then spread 1 cup of ricotta cheese over dough. Top with half the peaches and plums. Bake in preheated oven on pizza stone for 15 minutes or until done. Remove from oven. Top with desired amount of arugula and half the burrata. Drizzle with olive oil, balsamic reduction and sprinkle with freshly cracked black peppercorns and sea salt.
Repeat with remaining ingredients for second pizza.
Recipe created by Kate Donahue.
Recipe by
Red Star Yeast
at https://redstaryeast.com/recipes/pickled-stone-fruit-pizza/