Baked Brown Butter Beignets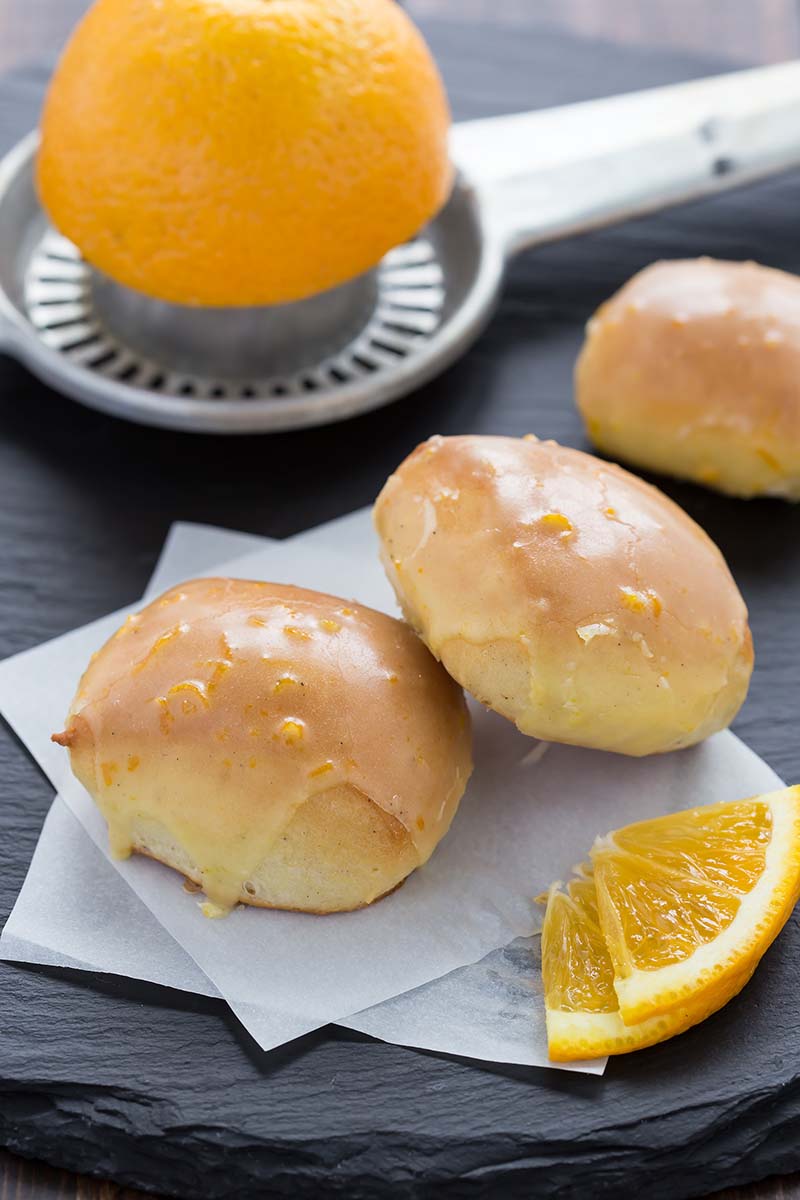 8 Tbsp unsalted butter
¾ cups warm water (110-115°F)
½ cup sugar
1 package (2¼ tsp, ¼oz, 7g) RED STAR Active Dry Yeast
3½ cups bread flour
1 tsp salt
1 egg, lightly beaten
1½ tsp vanilla paste
½ cup whole milk, plus 2 Tbsp for brushing
Brown butter (reserved from beignets)
2 cups confectioner's sugar
1 Tbsp orange zest (about 1 large orange)
3 Tbsp fresh orange juice (about 2 large oranges)
Heat the butter in a small saucepan over medium heat. As the butter melts, whisk it frequently. Cook for about 3 minutes or until the butter turns a light amber color and has a nutty aroma. Watch it closely, it can go from brown to burnt rather quickly. Remove from heat, transfer 3 tablespoons to a small glass bowl and let cool to room temperature. Set aside remaining brown butter, to be used for brushing.
In a small bowl, stir together the warm water, sugar, and yeast. Let sit for about 5 minutes, until the yeast is dissolved and foamy.
In a large bowl, add the flour and salt. Stir with a whisk to combine. In a medium bowl, add the egg, vanilla paste, ½ cup milk, and 3 tablespoons of the cooled browned butter. Whisk to combine and add to the flour mixture. Add the yeast mixture and stir with a silicone spatula until a soft, sticky dough forms. (The dough should pull away from the sides of the bowl but feel tacky with touched lightly with your finger.)
With well-floured hands, shape the dough into a ball and place it in a lightly oil bowl. Cover the bowl with plastic wrap and set in a warm place to rise until doubled in size, about 2 hours.
Turn the dough out onto a lightly flour surface and roll it into a ¼-inch thick square (6x6-inches). Use a pizza cutter or pastry wheel to slice the dough into 1½-inch squares. Place the squares 1
inch apart on a baking sheet lined with parchment paper. Cover with a lint free towel and let
rise for about 45 minutes.
Meanwhile, preheat the oven to 350°F.
Brush the tops of each square with remaining 2 tablespoons milk and bake for 12-15 minutes or until golden brown.
Make the glaze: If the brown butter has begun to solidify, warm it in the microwave for 15 seconds. In a medium bowl, whisk the brown butter, confectioner's sugar, orange zest, and orange juice until smooth.
While the beignets are still warm, drizzle the tops with orange brown butter glaze.
Recipe created by Baked by an Introvert.
Recipe by
Red Star Yeast
at https://redstaryeast.com/recipes/baked-brown-butter-beignets/