Chocolate Hazelnut Sweet Rolls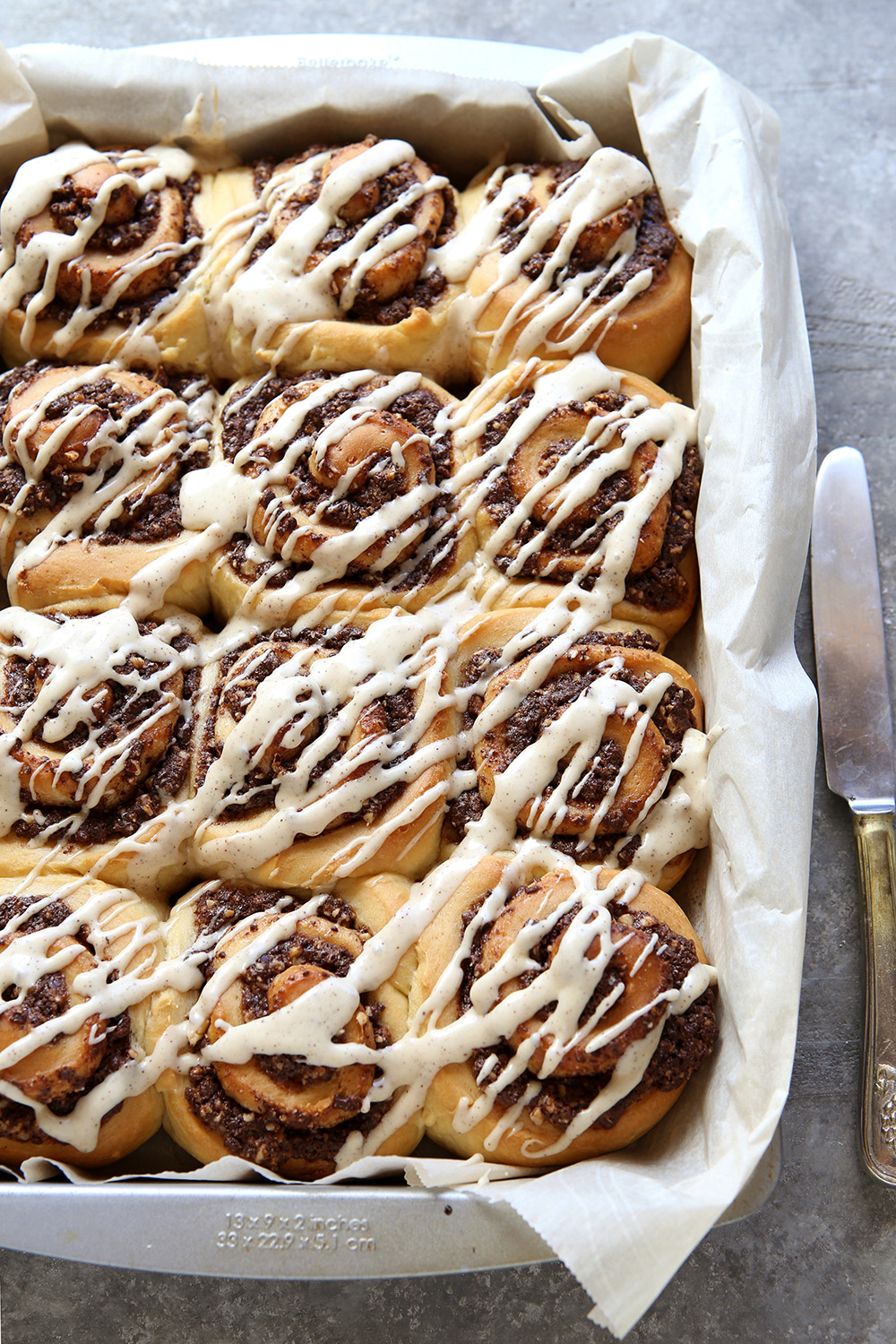 ¼ cup (56 grams) unsalted butter
3 Tbsp honey
⅔ cup (160 ml) whole milk
3 - 3½ (360-420 grams) all-purpose flour
2¼ tsp (one package, 7 grams) RED STAR Active Dry Yeast
1 tsp salt
2 large eggs
6 oz (170 grams) semi-sweet chocolate, roughly chopped
½ cup (70 grams) hazelnuts
¼ cup (50 grams) granulated sugar
Pinch of salt
6 Tbsp (85 grams) unsalted butter, at room temperature
1 cup (227 grams) powdered sugar, sifted
½ tsp instant espresso powder (optional)
½ tsp vanilla extract
2-3 Tbsp milk or heavy cream
To prepare the dough:
In a small saucepan set over medium low heat, warm the butter, honey and milk until butter is melted and mixture begins to steam. Do not boil. Remove from heat and let sit 5 minutes, or until the temperature is between 120-130°F.
In the bowl of a stand mixer fitted with a dough hook, combine 1½ cups of the flour with the yeast and salt. Add the milk mixture and mix until combined. Add the eggs one at a time, mixing after each. With the mixer on low, add the remaining flour ¼ cup at a time until dough clears the side of the bowl but is still slightly sticky to the touch. You may not need all 3½ cups of flour.
Continue to knead the dough in the mixer until it is smooth and elastic, about 5-8 minutes. Place dough in a greased bowl, cover with plastic wrap, and let rise in a warm place until doubled, about 1 hour.
To prepare filling and assemble rolls:
In a food processor, pulse the chocolate chunks, hazelnuts, sugar and salt until the nuts and chocolate are in very small pieces but a few large chunks remain. (If you do not have a food processor, you can use a sharp knife.) Add the butter and pulse a few times just until the mixture comes together. It should be slightly sticky and still crumbly, do not process it so much that it forms a paste.
Gently punch down dough and knead a few times. Cover it with the plastic wrap and let it rest for 15 minutes.
On a lightly floured surface, roll the dough into a long rectangle approximately 10x15 inches. Spread the chocolate hazelnut mixture evenly on top. Starting with a long end, tightly roll up the dough into a long log. Use a sharp knife or unflavored dental floss or thread to cut dough into 12 rolls.
Place rolls in a greased 9x13-inch pan. Cover with plastic wrap and let rise until doubled, about 30-45 minutes. Meanwhile, preheat oven to 350°F.
Bake rolls until golden, about 30 minutes. Let cool slightly.
To make the icing:
Whisk together the powdered sugar, espresso powder, vanilla extract and enough milk or heavy cream to make a thick but pourable glaze. Drizzle over warm rolls.
Recipe created by Completely Delicious.
Rolls are best the day they are baked, but will keep in an airtight container at room temperature for up to 3 days.
Recipe by
Red Star Yeast
at https://redstaryeast.com/recipes/chocolate-hazelnut-sweet-rolls/