Brown Butter Hazelnut Doughnuts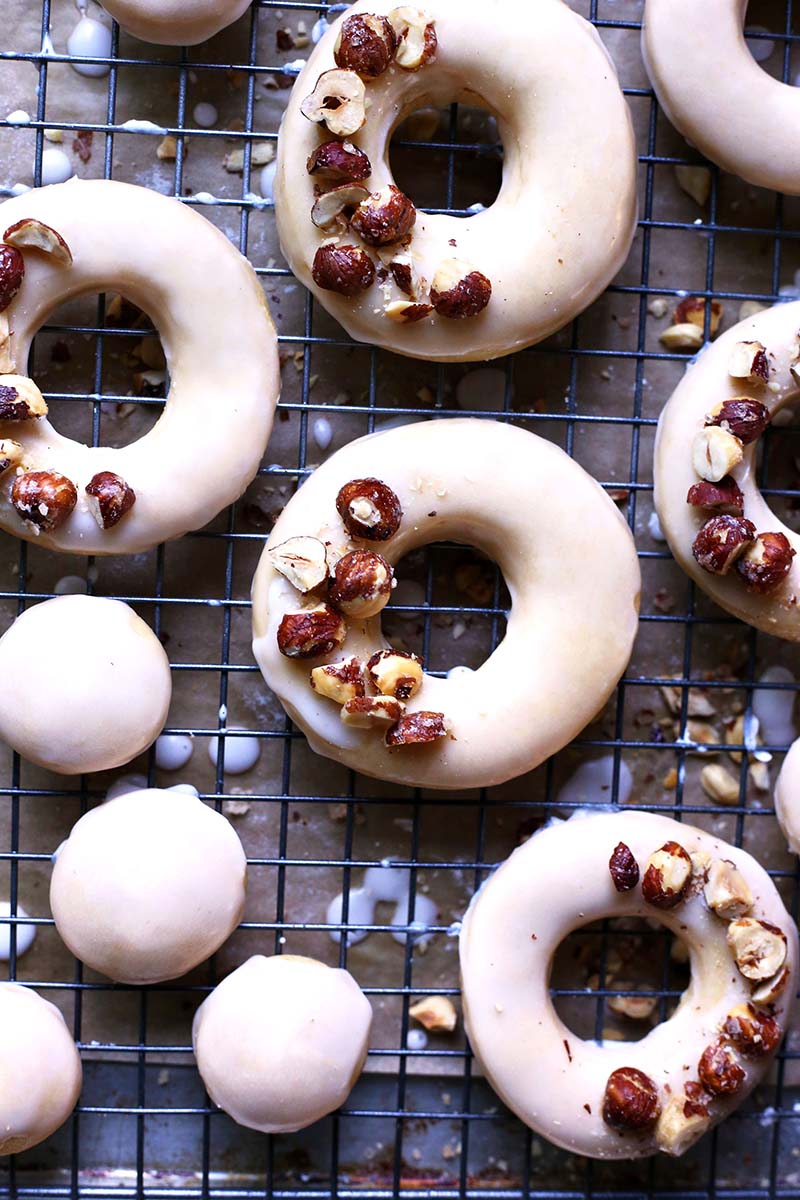 ¾ cup (168 g) unsalted butter
¾ cup (180 g) buttermilk (110-115°F)
1 package (2¼ tsp, ¼oz, 7g) RED STAR Active Dry Yeast
2 tsp salt
3 large eggs, lightly beaten (at room temperature)
½ cup (100 g) light brown sugar
3¼ cups (455 g) flour
1 Tbsp sugar
1 Tbsp hot water
½ cup (64 g) hazelnuts
1 Tbsp turbinado sugar
1 Tbsp (14 g) unsalted butter, melted
1 cup (120 g) powdered sugar, sifted
⅛ tsp salt
3 Tbsp Frangelico (hazelnut liquor)
3 Tbsp milk
Cook butter in a heavy saucepan over medium heat, stirring constantly until it
foams, turns clear, and then turns a deep brown, about 6 minutes. Pour browned
butter into a large mixing bowl and cool to room temperature. Whisk together
brown butter, buttermilk, yeast, salt, eggs, and brown sugar until combined. Add
flour and mix in with a wooden spoon or dough whisk until incorporated. Cover
bowl with plastic and let rest at room temperature for two hours, then chill in the
refrigerator for at least three hours or up to five days.
When ready to bake, line two rimmed baking sheets with parchment paper and
flour board or counter well. Use a floured bench scraper to scrape dough out
onto board. Dust dough with flour and use a lightly floured rolling pin to roll dough
into a ½-inch thick rectangle. Use a floured 3-inch cutter to form 14 rounds; cut
out the center of each round with a floured 1½-inch cutter. Place doughnuts on
prepared baking sheets and let rest at room temperature for 45 minutes.
While the dough rests, make the candied hazelnuts. Preheat oven to 350°F and
line a rimmed baking sheet with parchment paper. Whisk together sugar and hot
water in a small bowl until sugar is dissolved. Add hazelnuts and turbinado sugar;
toss to coat. Spread the hazelnuts in a single layer on prepared baking sheet and
bake until crisp, about 10 to 15 minutes. Let cool, then chop with a sharp knife.
Bake doughnuts for 18 minutes, until golden. Place on a wire rack to cool for 5
minutes. For the glaze, whisk together melted butter, powdered sugar, salt,
Frangelico, and milk until smooth. Set rack with doughnuts over a piece of wax
paper. Dip doughnut tops into glaze, sprinkle with candied hazelnuts, and let set
on rack before serving.
Recipe created by Tutti Dolci.
Recipe by
Red Star Yeast
at https://redstaryeast.com/recipes/brown-butter-hazelnut-doughnuts/