Carrot Cake Cinnamon Rolls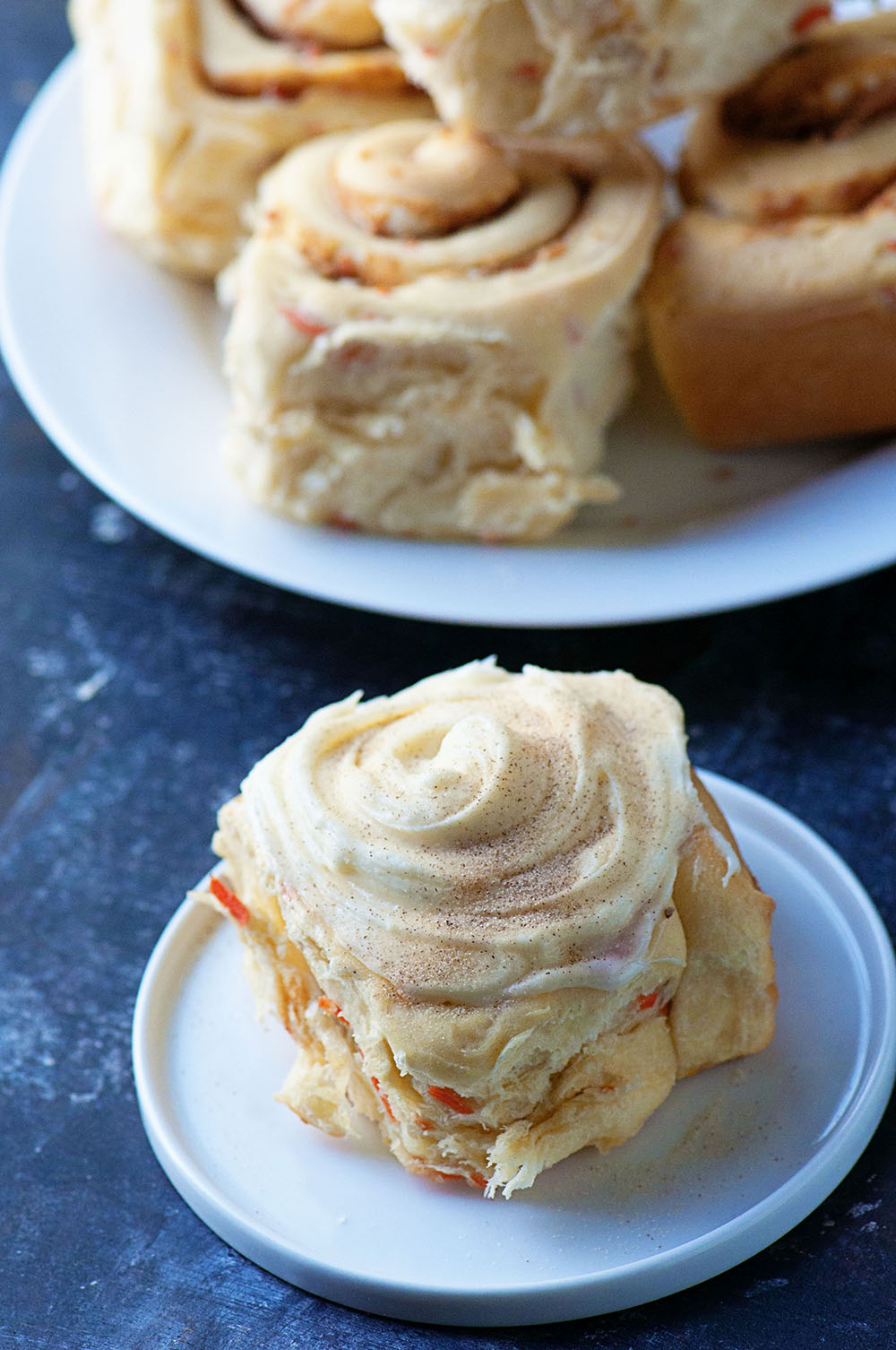 2 cups whole milk
¼ cup unsalted butter
7 to 8 cups all-purpose flour
2 packages (4 ½ tsp, ½oz, 14g) RED STAR Platinum Superior Baking Yeast
¾ cup granulated sugar
2 tsp salt
1 egg, slightly beaten
½ cup finely chopped carrots (added after the first rise)
¼ cup unsalted butter, melted
1 cup carrot cake flavored cake mix (without the carrot and raisin pack)
2 tsp cinnamon
⅔ cup raisins (optional)
½ cup warm rum (optional and in use with raisins)
8 oz cream cheese, at room temperature
2 oz unsalted butter, at room temperature
1 tsp vanilla extract
2 cups powdered sugar
For the rolls: Warm 2 cups milk and ¼ cup butter in a microwave-safe dish until it reaches 120-130°F. Butter does not need to melt.
Add 7 cups flour, yeast, sugar and salt to a stand mixer bowl. Whisk to combine.
Add warm milk/butter mixture and egg. Mix until dough comes together. Add additional flour, ½ cup at a time until a soft dough forms.
Transfer the dough to a well-floured board and knead until smooth and elastic, about 5 minutes. (You may also use your stand mixer fitted with a hook attachment.) Place the dough in a large, well-greased bowl, cover with plastic wrap, and let rise until doubled in volume, about 1 hour.
Grease two 9X13 inch pans; set aside. Place the raisins (if using) into the warmed rum and let sit for 15 minutes. Drain the raisins and set aside. You can discard the rum or drink it as a shot. :)
For the Filling: Combine cake mix and cinnamon in a small bowl, stir to combine. Melt butter.
Punch the dough down, place on a lightly-floured board, and knead in the chopped carrot pieces. Do your best to evenly distribute them.
Cut dough in half. Roll dough out into a 10x18-inch rectangle and brush it with ½ of the melted butter (or enough to cover the dough). Sprinkle half of the filling mixture over the buttered dough. Evenly distribute ½ of the rum soaked raisins, if using.
Starting at one of the long sides, roll the dough up, and pinch the seam well to seal. Using a serrated knife, cut the dough into 1 ½ -inch thick slices, and then place them in the prepared pan. Cover with plastic wrap. Repeat with 2nd dough.
Let rise until doubled in volume, about 45 minutes to 1 hour.
Preheat the oven to 350°F. When the rolls have risen, bake until golden brown, about 20-25 minutes. Let cool for about 10 minutes. While rolls are cooling, prepare the cream cheese frosting.
For the Frosting: Using your stand mixer with a paddle attachment beat together the butter and cream cheese about three minutes. With the mixer on low speed, add the powdered sugar a cup at a time until smooth and creamy. Beat in the vanilla extract.
Once cooled, frost cinnamon rolls.
Based on recipe by Sweet Recipeas.
Recipe by
Red Star Yeast
at https://redstaryeast.com/recipes/carrot-cake-cinnamon-rolls/