Raisin-Filled Holiday Ring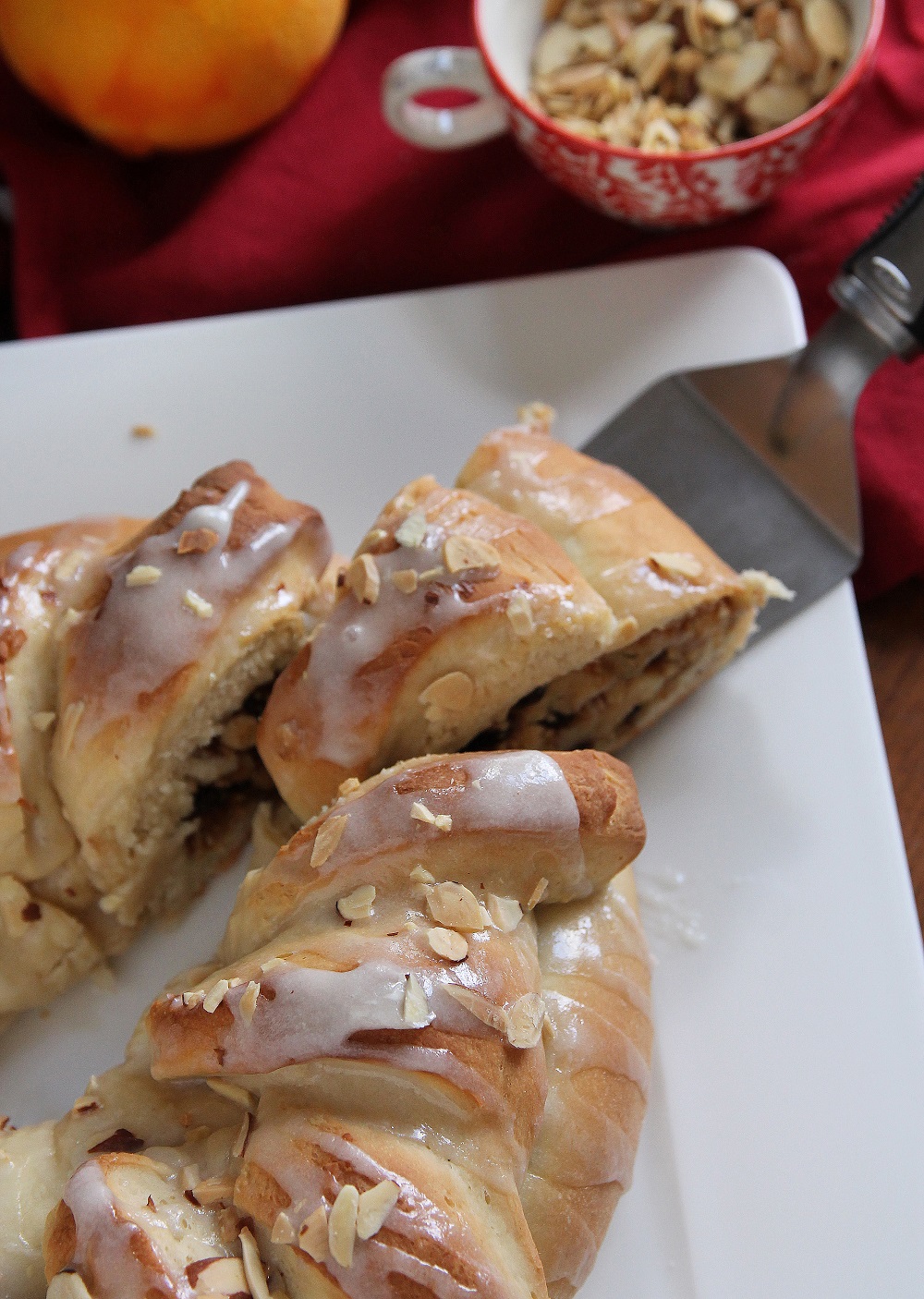 3 to 3½ cups all-purpose flour
2 packages (4½ tsp) RED STAR Platinum Yeast
1 tsp salt
⅓ cup sugar
¼ cup milk
½ cup water
¼ cup butter or margarine
1 egg
2 Tbsp butter, softened
⅓ cup sugar
1 Tbsp orange rind
1 tsp cinnamon
½ cup chopped almonds
1 cup raisins
1 cup powdered sugar
2 Tbsp butter or margarine, softened
½ tsp vanilla
1 to 2 Tbsp milk
In large mixing bowl, combine 1½ cups flour, yeast, salt and sugar; mix well. In saucepan or microwave-safe bowl, heat milk, water and butter until warm (120-130°F; butter does not need to melt). Add to flour mixture. Add egg. Blend at low speed until moistened; mix 3 minutes at medium speed. By hand, gradually stir in enough remaining flour to make a firm dough. Knead on floured surface until smooth and elastic, 5 to 8 minutes. Place in greased bowl, turning to grease top. Cover; let rise in warm place until light and doubled, about 1 hour.
Prepare Filling: Combine butter, sugar, orange rind, cinnamon and almonds. Mix well.
Punch down dough. Divide dough into 3 parts. Set aside one third of dough. On lightly floured surface, roll remaining two thirds of dough to a 14x10-inch rectangle. Spread Filling over dough; sprinkle evenly with raisins. Starting with longer side, roll up tightly. Pinch edge to seal. Form ring; pinch ends to seal. Place ring seam side down on greased cookie sheet. Brush top of dough with water. Roll reserved dough into an 18-inch rope. Place on top of filled ring, sealing ends together. With scissors, make 12 cuts in the rope; alternate the cut petals, bringing one to center and next to outside of ring. Cover; let rise in warm place until double, about 30 minutes. Bake at 375°F for 25 to 30 minutes until golden brown. Remove from cookie sheet; cool on a wire rack.
Prepare Glaze: Combine Glaze ingredients; blend until smooth, adjusting the water/powdered sugar to get desired consistency. Glaze cooled coffee cake. Garnish with colored sugar and chopped almonds if desired.
Recipe featured at Stephie Cooks.
Recipe by
Red Star Yeast
at https://redstaryeast.com/recipes/raisin-filled-holiday-ring/