Blueberry Glazed Breakfast Buns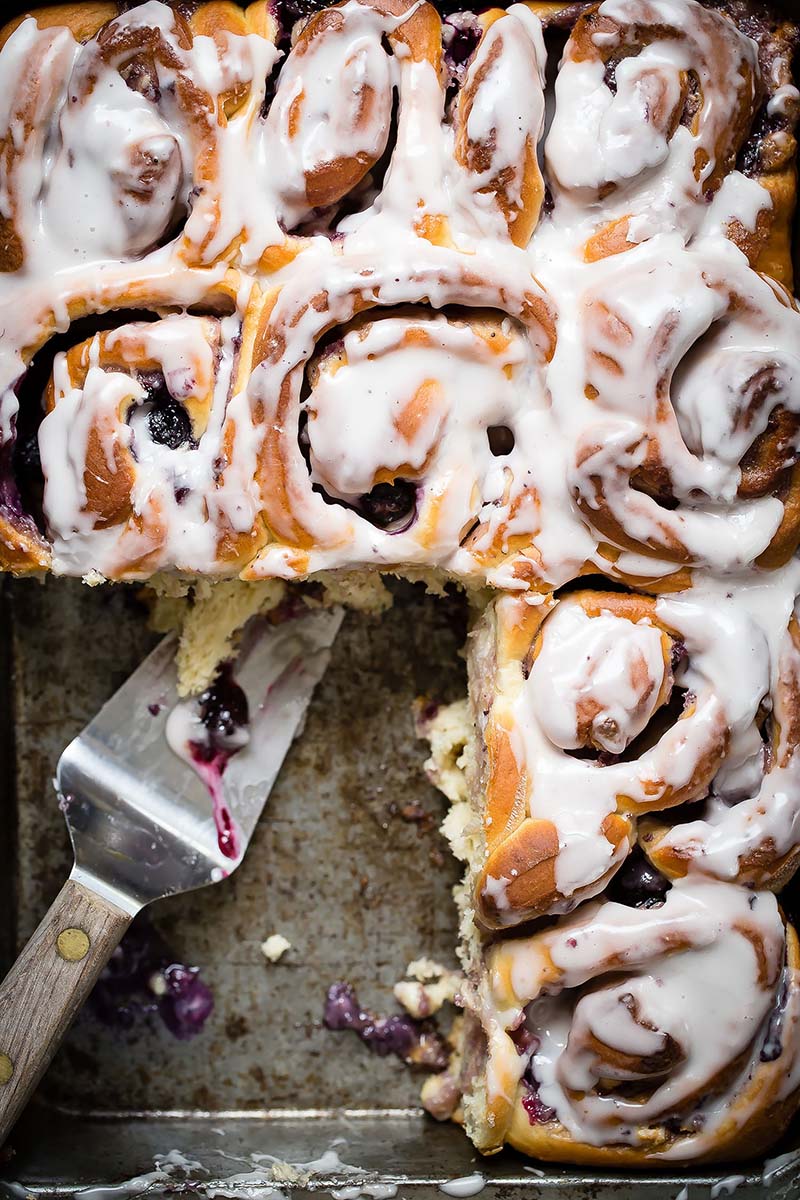 2 packages (4½ tsp, ½oz, 14g) RED STAR Quick Rise Yeast
1 Tbsp sugar
1¼ cups warm water (120-130°F)
4¾ cups all-purpose flour, divided
¾ cup brown sugar
1 stick (4oz) unsalted butter, softened
3 eggs
8 oz. cream cheese at room temperature
2 oz unsalted butter at room temperature
⅓ cup plus 2 Tbsp brown sugar
½ cup blueberry jam
⅔ cups white chocolate chips
1¼ cups fresh blueberries
2 cups powdered sugar
2-3 Tbsp milk, add more gradually if you prefer a thinner glaze
½ tsp vanilla
½ tsp blueberry jam
Prepare a 9x13-inch baking tray and an 11x8-inch baking dish by spraying them with a non-stick spray.
In a large bowl, mix the yeast with the water and add the 1½ cups flour and 1 Tbsp of sugar. Mix until combined, cover the bowl with plastic wrap or tea towel and let rise for 35 minutes.
In another bowl, whisk the butter with the brown sugar. Add the eggs, whisking well after adding each egg. Using a spatula, fold the butter mixture into the dough and mix. Add the remaining 3¼ cups flour and mix well until the dough comes together.
Transfer the dough to a lightly floured work surface. Knead for about 5 minutes until dough is smooth and elastic.
Rub a bowl with some olive oil and place the dough inside. Cover with plastic wrap or tea towel and let rise in warm place for about 50 minutes, or until doubled in size.
Punch dough down and turn back out onto the work surface. Roll dough into a rectangle shape around 11 inches by 25 inches.
In a bowl of a stand mixer beat the cream cheese, butter, blueberry jam and brown sugar until smooth. Spread the cream cheese mixture evenly over the dough. Sprinkle the white chocolate chips and blueberries all over the surface of the cream cheese mixture.
Starting with long side, roll dough towards you keeping it nice and tight and even in thickness. Once it's completely rolled into a long tube shape, cut into slices about 1½ inches thick.
Transfer each piece to the prepared pans with the cut side face up. Cover with a towel and let rise in warm place for 30-40 minutes.
Preheat the oven to 375°F.
Once the buns have risen, place them in the oven and bake for 20-22 minutes or until they turn slightly golden. Place a tented piece of foil over the buns during the last 5 minutes of baking to prevent over-browning.
Make the glaze: Mix powdered sugar with milk, vanilla and blueberry jam. Whisk until smooth, if it seems too stiff just add a drop or two more of milk.
Once the buns are fully baked, take pans out of oven and let rest for 5 minutes. Then pour the glaze over the surface covering all of the buns.
Serve warm with fresh hot coffee.
Recipe created by Foodness Gracious.
Recipe by
Red Star Yeast
at https://redstaryeast.com/recipes/blueberry-glazed-breakfast-buns/