Whole Wheat Cranberry Walnut Bread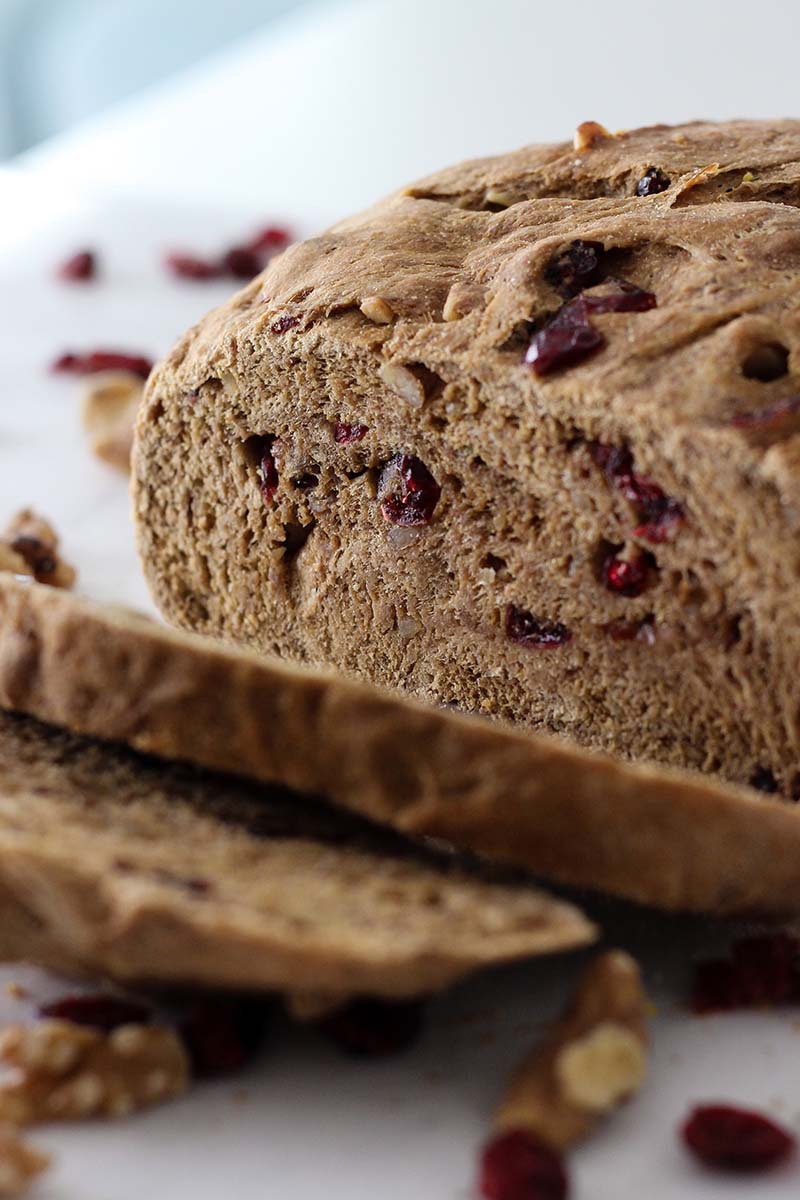 3 cups whole wheat flour
1 Tbsp vital wheat gluten
1½ tsp salt
½ cup water
½ cup almond milk
1 package (2¼ tsp, ¼oz, 7g) RED STAR Platinum Superior Baking Yeast
⅛ cup brown sugar
2 Tbsp grapeseed oil
2 Tbsp blackstrap molasses
1 Tbsp dried orange peel
½ cup dried cranberries
½ cup walnuts, chopped
Warm the water, milk, and sugar to lukewarm (110-115°F). Add the yeast and let it sit until it's nice and foamy, about 5-10 minutes. While that's happening you can chop your walnuts and get the rest of the ingredients ready.
Add the yeast mixture, oil, and molasses to the bowl of a stand mixer. Add in the flour, gluten, salt, and orange peel. Mix for 2-3 minutes then add the cranberries and nuts. Keep kneading for about 5 more minutes.
Once the dough has come together take it out of the bowl and knead with your hands until the dough is nice and elastic. Form it into a ball then place in an oiled bowl. Place the bowl, covered with a dish towel or plastic wrap, into a warm place to rise until the dough has doubled, between 1-2 hours.
Take dough out of bowl and knead a few times. Form it into a round loaf and place in a greased Dutch oven. Cover, and let rise for about 40 minutes until it's doubled in size. Bake in a 375°F oven with the lid on for 20-30 minutes. Take the lid off and bake for 5-10 more minutes or until it's golden brown.
Set bread on wire rack to cool. Slice and enjoy!
Recipe created by The Yooper Girl.
You can also shape the dough into a loaf. Bake in a 9x5-inch pan uncovered for 25-30 minutes.
Recipe by
Red Star Yeast
at https://redstaryeast.com/recipes/whole-wheat-cranberry-walnut-bread/