Rosemary and Cheese Dinner Rolls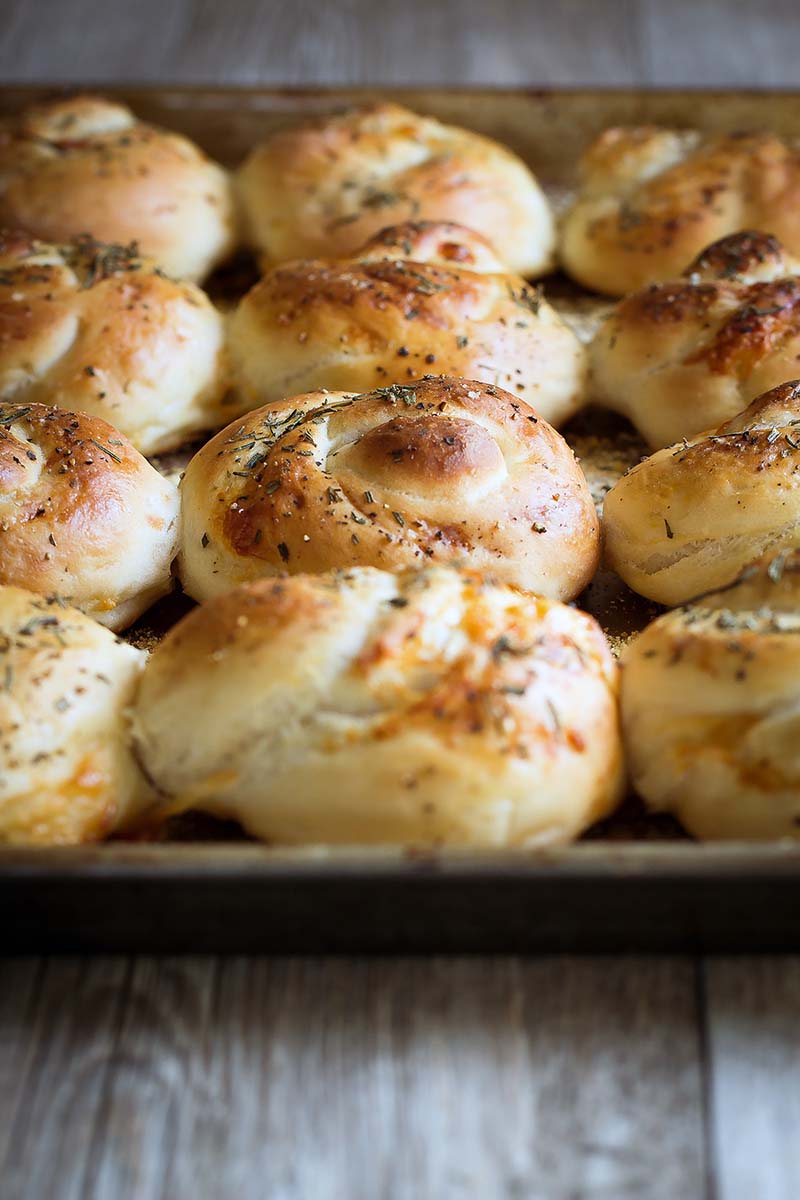 2 packages (4½ tsp, ½oz, 14g) RED STAR Active Dry Yeast
1 Tbsp sugar
1 cup water, 110-115°F
1 pound (4 cups) all-purpose flour
½ Tbsp salt
1 Tbsp olive oil
2 cups grated manchego or cheddar cheese
1 egg, beaten
2 Tbsp fresh chopped rosemary
Sea salt and cracked black pepper
Cornmeal for dusting the baking tray
In a small bowl whisk the yeast, sugar and half of the water together until dissolved.
In a larger bowl, add the flour and salt, make a well in the center. Add the yeast mixture to the well and mix gently with a wooden spoon or your fingers. Add the remaining water and mix until the flour comes together and forms a ball. You may need to add a few drops of water if it feels dry.
Turn dough out onto a floured work surface and shape into a ball. Knead the dough for about 3-4 minutes: stretch it with the heal of your hand and folding it over, give dough a ¼-turn, repeat. Finish the task by ending with a nice round ball shape.
Grease a bowl with the olive oil and put the dough into it. Cover the bowl with plastic wrap and store in the refrigerator overnight.
Take the bowl from the fridge the next morning and turn it out on to a floured work surface. Press it down flat, or roll it out with a rolling pin, to about an inch thick. If dough is too cold to work with, let it rest, covered, on the counter for ½-1 hour.
Sprinkle the grated cheese over the dough and start to fold and knead the dough back into a ball shape.
Using a knife, chop the dough into 14 individual pieces, each weighing 2½ ounces. Roll each piece to a length of about 6 inches and tie it into a knot.
Transfer to a large baking tray dusted with a little cornmeal, leaving a small space between each roll. Using a pastry brush, glaze each roll with the beaten egg and sprinkle with the salt, black pepper and rosemary. Lay a clean tea towel on top of the rolls and let rest for about 30-45 minutes.
Preheat the oven to 400°F.
Bake rolls in the oven for 20-25 minutes until they are golden brown.
Recipe created by Foodness Gracious.
Recipe by
Red Star Yeast
at https://redstaryeast.com/recipes/rosemary-and-cheese-dinner-rolls/