Buttermilk Whole Wheat Raisin Bread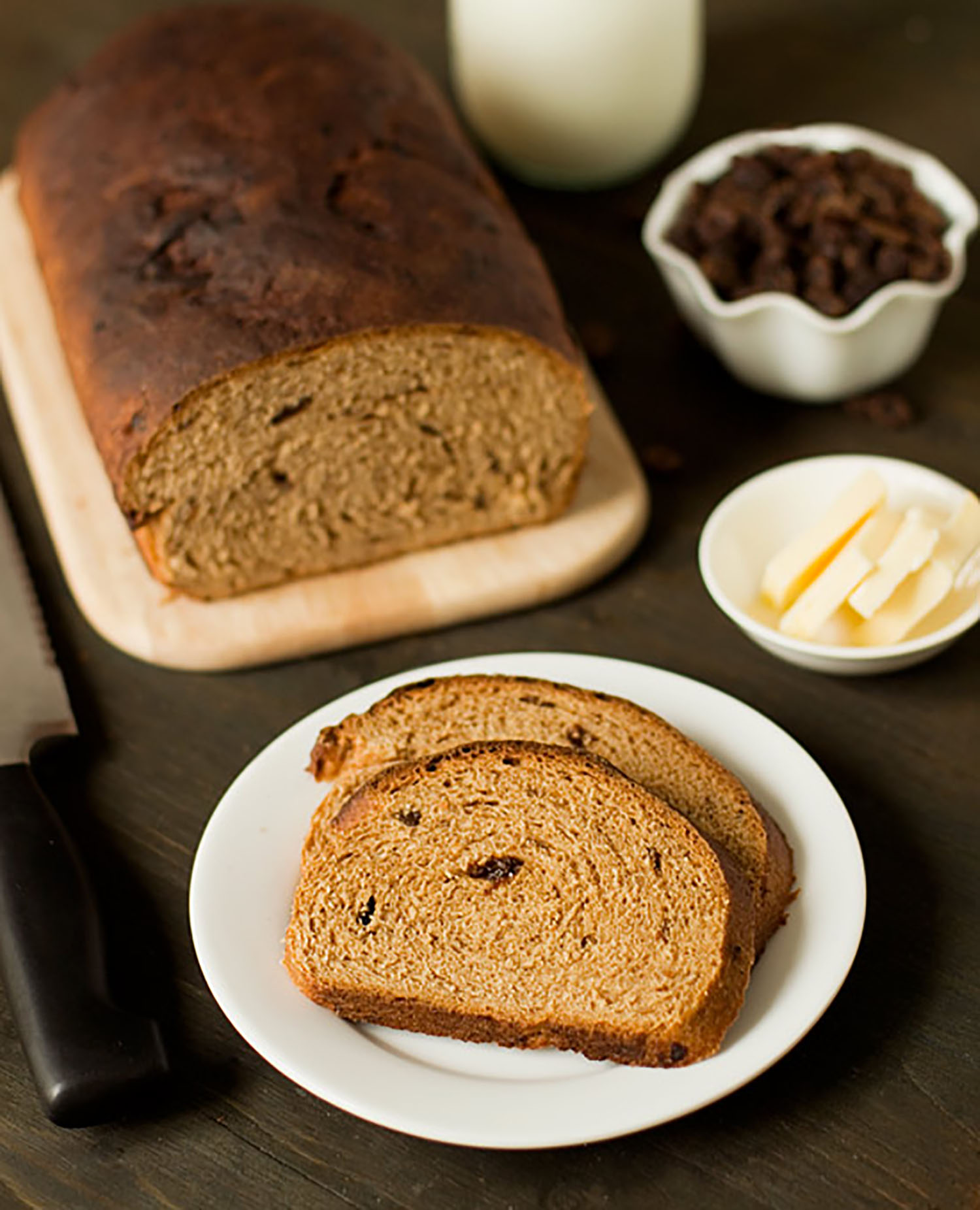 ¾ cup, plus 1 Tbsp water
1 Tbsp vegetable oil
¾ cup bread flour
1½ cup whole wheat flour
1 tsp salt
2 Tbsp brown sugar
2 Tbsp buttermilk powder
1 package (2¼ tsp, ¼oz, 7g) RED STAR Active Dry Yeast
⅓ cup raisins
1 cup water
2 Tbsp vegetable oil
1 cup bread flour
2 cup whole wheat flour
1½ tsp salt
3 Tbsp brown sugar
3 Tbsp buttermilk powder
1 Tbsp RED STAR Active Dry Yeast
½ cup raisins
1 cup, plus 2 Tbsp water
3 Tbsp vegetable oil
1½ cup bread flour
2½ cup whole wheat flour
2 tsp salt
¼ cup brown sugar
¼ cup buttermilk powder
4½ tsp RED STAR Active Dry Yeast
⅔ cup raisins
Have liquid ingredients at 80º F and all others at room temperature. Place ingredients in pan in the order listed. Select basic cycle and medium/ normal crust. Raisins can be added 5 minutes before the end of the last kneading. Check dough consistency after 5 minutes of kneading. The dough should be in a soft, tacky ball. If it is dry and stiff, add water, ½ to 1 tablespoon at a time. If it is too wet and sticky, add 1 tablespoon of flour at a time. Remove bread when cycle is finished; cool. See our Bread Machine section for more helpful tips and information.
Using ingredient amounts listed for large loaf, combine yeast, 1 cup bread flour, and other dry ingredients, except whole wheat flour and raisins. Combine liquids and heat to 120º to 130º F.
Hand-Held Mixer Method
Combine dry mixture and liquid ingredients in mixing bowl on low speed. Beat 2 to 3 minutes on medium speed. By hand, stir in whole wheat flour, raisins and enough remaining bread flour to make a firm dough. Knead on floured surface 5 to 7 minutes or until smooth and elastic. Use additional flour if necessary.
Stand Mixer Method
Combine dry mixture and liquid ingredients in mixing bowl with paddle or beaters for 4 minutes on medium speed. Gradually add whole wheat flour, raisins and remaining bread flour and knead with dough hook(s) 5 to 7 minutes until smooth and elastic.
Have all ingredients at room temperature. Put dry mixture in processing bowl with steel blade. While motor is running, add liquid ingredients. Process until mixed. Continue processing, adding whole wheat flour and remaining bread flour until dough forms a ball. Add raisins; pulse just until mixed.
Place dough in lightly oiled bowl and turn to grease top. Cover; let rise until dough tests ripe. Turn dough onto lightly floured surface; punch down to remove air bubbles. Roll or pat into a 14 x 7-inch rectangle. Starting with shorter side, roll up tightly, pressing dough into roll. Pinch edges and ends to seal. Place in greased 9 x 5- inch loaf pan. Cover; let rise until indentation remains after touching. Bake in preheated 375º F oven 30 to 40 minutes. Remove from pan; cool.
*You can substitute Instant (fast-rising) yeast in place of Active Dry Yeast. When using Instant Yeast, expect your dough to rise faster. Always let your dough rise until ripe. Traditional methods: use equal amounts; Bread Machine: use ½ tsp Instant Yeast OR ¾ tsp Active Dry Yeast per cup of flour in your recipe. Visit our Lessons in Yeast & Baking for more information on baking.
This recipe is featured at Texan Erin.
Due to the low volume of this loaf, the medium recipe can be used in a small (1 lb. loaf) machine.
Serving size:
1
Calories:
160
Total Fat:
3g
Saturated fat:
0g
Carbohydrates:
32g
Sugar:
7g
Sodium:
300mg
Fiber:
3g
Protein:
5g
Cholesterol:
0mg
Recipe by
Red Star Yeast
at https://redstaryeast.com/recipes/buttermilk-whole-wheat-raisin-bread/