Early American Cottage Loaf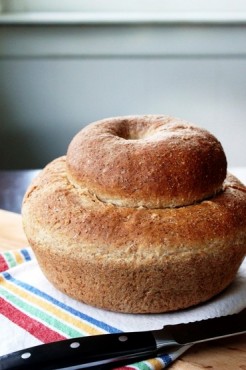 1¼ cups water
2 TBSP oil
3 TBSP honey
2¼ cups bread flour
1 cup whole wheat flour
1½ tsp salt
2 TBSP wheat germ
¼ cup oat or wheat bran
¼ cup oatmeal
2 TBSP corn meal
2¼ tsp Red Star Active Dry Yeast
Recipe featured at Yesterfood.
Place room temperature ingredients in pan in order listed. Select DOUGH setting. Check dough consistency after 5 minutes of kneading. The dough should be in a soft, tacky ball. If it is dry and stiff, add water, ½ to 1 TBSP at a time. If it is too wet and sticky, add 1 TBSP of flour at a time. See our Bread Machine section for more helpful tips and information.When cycle is complete, remove dough. Continue with Shaping, Rising and Baking.
Combine yeast, 1 cup bread flour and other dry ingredients. Combine liquids; heat to 120° to 130° F. Add to flour mixture; beat 3 minutes on medium speed. By hand, stir in enough remaining bread flour to make firm dough. Knead on floured surface 5 to 7 minutes until smooth and elastic. Place in lightly greased bowl; turn to grease top. Cover; let rise until dough tests ripe.
Turn dough onto lightly floured surface; punch down to remove air bubbles. Cut off ¼ of dough. Let dough relax for 10 minutes. Shape each section into round balls. Place larger ball in greased 1½ -quart casserole or soufflé dish. With fist, make deep indentation in center. Place smaller ball in hole. Stick floured finger down through center of both balls to bottom of dish to glue both balls together. Cover; let rise until indentation remains after lightly touching dough. Just before baking, stick finger into hole again. Bake in preheated 375°F oven 35 to 40 minutes. Remove from dish; cool on rack.
You can substitute Instant (fast-rising) yeast for Active Dry Yeast. Traditional methods- replace 1:1. Expect your dough to rise faster; always let your dough rise until 'ripe'. Bread Machines- use ½ tsp Instant yeast (or ¾ tsp Active Dry yeast) per cup of flour in your recipe. Visit our Lessons in Yeast & Baking for more information on baking.
Recipe by
Red Star Yeast
at https://redstaryeast.com/recipes/early-american-cottage-loaf/