Whole Wheat Pumpkin Cinnamon Buns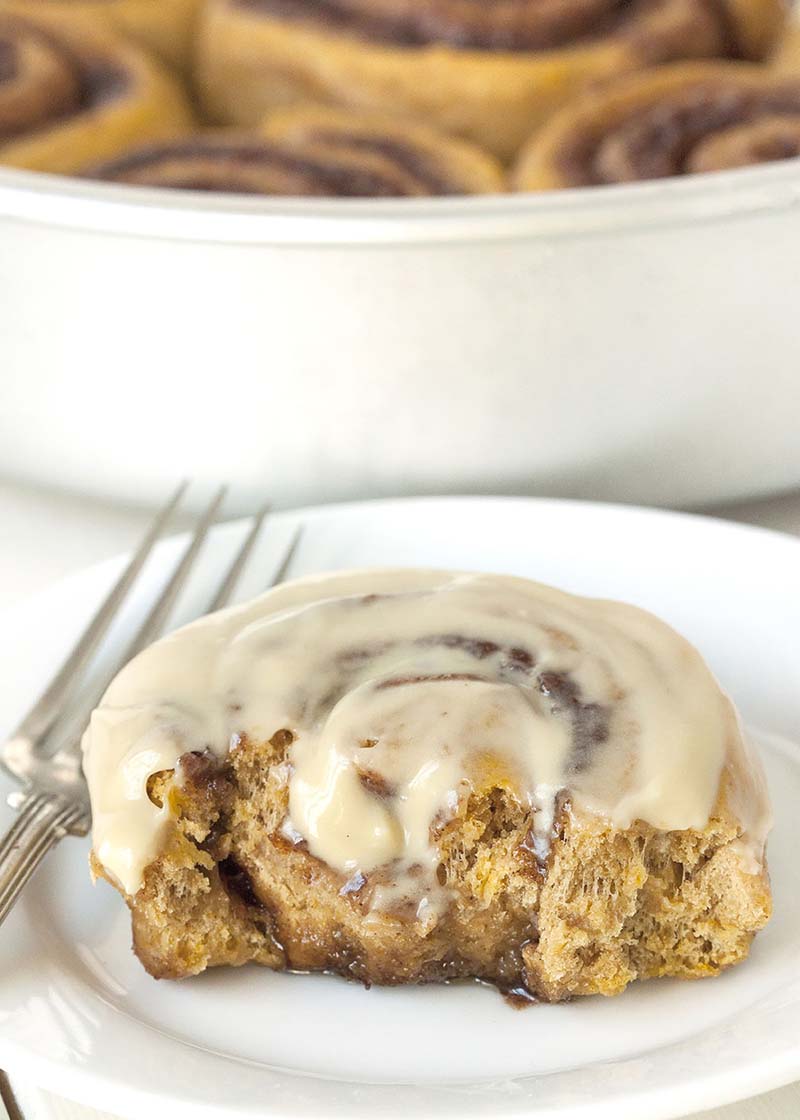 ⅔ cup (158 ml) whole milk
1 Tbsp unsalted butter
1 cup (125 grams) all-purpose flour
2 Tbsp (20 grams) potato flour
2 Tbsp vital wheat gluten
1 package (2¼ tsp, ¼oz, 7g) RED STAR Platinum Superior Baking Yeast
¼ cup (50 grams) granulated sugar
¾ tsp ginger
½ tsp cinnamon
¼ tsp allspice
⅛ tsp nutmeg
½ tsp salt
½ cup (121 grams) canned pumpkin puree
1⅓ - 1½ cups (167 - 188 grams) white whole wheat flour
½ cup (100 grams) coconut or brown sugar
2½ tsp cinnamon
3 Tbsp unsalted butter, very soft
½ - ¾ cup (55 - 83 grams) chopped pecans or walnuts, optional
4 ounces (112 grams) cream cheese, softened
¼ cup (60 ml) maple syrup (use Grade B for a more intense maple flavor)
½ tsp vanilla
A pinch of salt
¼ cup (29 grams) powdered sugar
Melt the butter in a small saucepan over low heat. Stir in the milk and heat to between 120-130°F (49-54 °C).
While the milk is heating up, mix together the all-purpose flour, potato flour, vital wheat gluten, yeast, sugar, ginger, cinnamon, allspice, nutmeg and salt in the bowl of a stand mixer fitted with the dough hook.
When the milk/butter mixture has reached the correct temperature, pour it into the flour mixture and use a silicone spatula to stir it in until well combined.
Add the pumpkin puree and stir.
With the mixer on low, start gradually adding the white whole wheat flour. Let the flour be fully incorporated before adding more flour. The dough should still be a little sticky and won't completely pull away from the sides of the bowl.
Knead on low for 5 minutes. The dough will still be a little sticky and won't completely pull away from the sides of the bowl.
Using a silicone spatula, scoop the dough into a lightly oiled mixing bowl and cover the bowl with plastic wrap or a thin kitchen towel.
Let the dough rise in a warm place until doubled, about one hour.
Meanwhile, prepare the filling by mixing together the sugar and cinnamon in a small bowl.
After the dough has doubled, punch the dough down, and let it sit for 5 minutes.
Grease a 10-inch cake pan.
Flour a clean surface and roll the dough into a 10x15-inch rectangle.
Spread the butter evenly over the top, leaving a ¾-inch border around the edges.
Spread the cinnamon sugar on top, and if using, the nuts, and then starting from the shorter side, carefully and tightly roll into a log.
Use a piece of unscented and unwaxed dental floss to cut 1-inch pieces. Try to keep the pieces the same size.
Place the buns in the prepared cake pan, leaving a little room between each bun.Cover with a lightly greased piece of plastic wrap and let rise in a warm place until doubled, about 45 minutes.
The last 10 minutes of rising, preheat the oven to 350 °F (175 °C).
Bake on the middle rack for 12-15 minutes or until lightly browned and the centers are cooked through.
Remove from the oven and let cool for 10 minutes while preparing the frosting.
Recipe created by Texan Erin.
*One 7 gram (¼ oz) package is equal to approximately 2¼ teaspoons. To store opened packages: roll down package and secure with tape or paper clip. Store opened packages in refrigerator or freezer, use within a month of opening. For best results, allow cold yeast to sit at room temperature for ½ hour before using.
Recipe by
Red Star Yeast
at https://redstaryeast.com/recipes/whole-wheat-pumpkin-cinnamon-buns/