Sourdough Cracked Wheat Rolls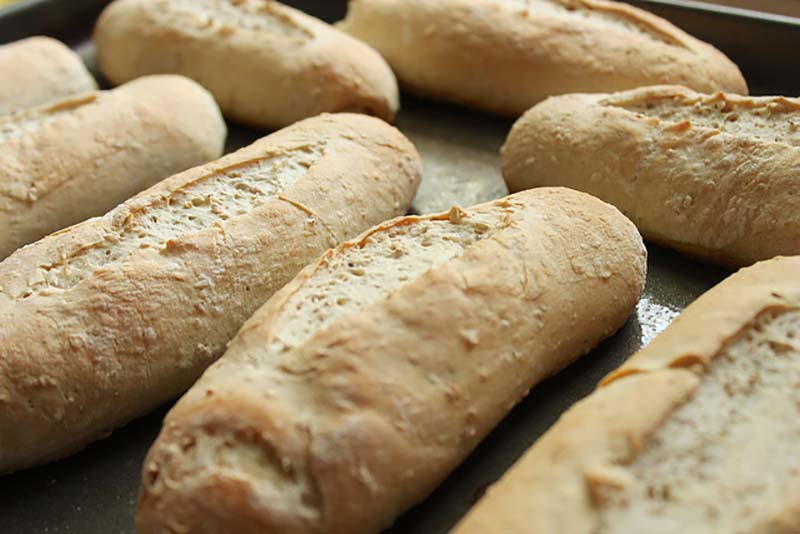 ¾ cup water
1 Tbsp vegetable oil
1 cup sourdough starter
3 cup bread flour
⅓ cup cracked wheat
2 tsp salt
1 Tbsp sugar
1 package (2¼ tsp, ¼oz, 7g) RED STAR Active Dry Yeast
Click here for Sourdough Starter recipe.
Have water and oil at 80º F and all other ingredients at room temperature.Place ingredients in pan in the order listed. Select dough/manual cycle. Do not use the delay. Check dough consistency after 5 minutes of kneading. The dough should be in a soft, tacky ball. If it is dry and stiff, add water, ½ to 1 TBSP at a time. If it is too wet and sticky, add 1 TBSP of flour at a time. When cycle is complete, remove dough and follow directions under the Shaping, Rising and Baking section. See our Bread Machine section for more helpful tips and information.
Turn dough onto lightly floured surface; punch down to remove air bubbles. Divide dough into 8 pieces. On lightly floured surface, roll each piece to a 6 x 4-inch rectangle. Starting with the longer side, roll up tightly, pressing dough into roll with each turn. Pinch edges and ends to seal. Place on greased cookie sheet. Cover; let rise until doubled. With sharp knife, make a lengthwise slash down the center of each roll. Brush with cold water. Bake in preheated 400º F oven 20 to 25 minutes or until brown. Remove from cookie sheet; cool.
*You can substitute Instant (fast-rising) yeast in place of Active Dry Yeast. When using Instant Yeast, expect your dough to rise faster. Always let your dough rise until ripe. Traditional methods: use equal amounts; Bread Machine: use ½ tsp Instant Yeast OR ¾ tsp Active Dry Yeast per cup of flour in your recipe. Visit our Lessons in Yeast & Baking for more information on baking.
Recipe featured at Stephie Cooks.
Recipe by
Red Star Yeast
at https://redstaryeast.com/recipes/sourdough-cracked-wheat-rolls/