Gluten Free Farmhouse Buttermilk Bread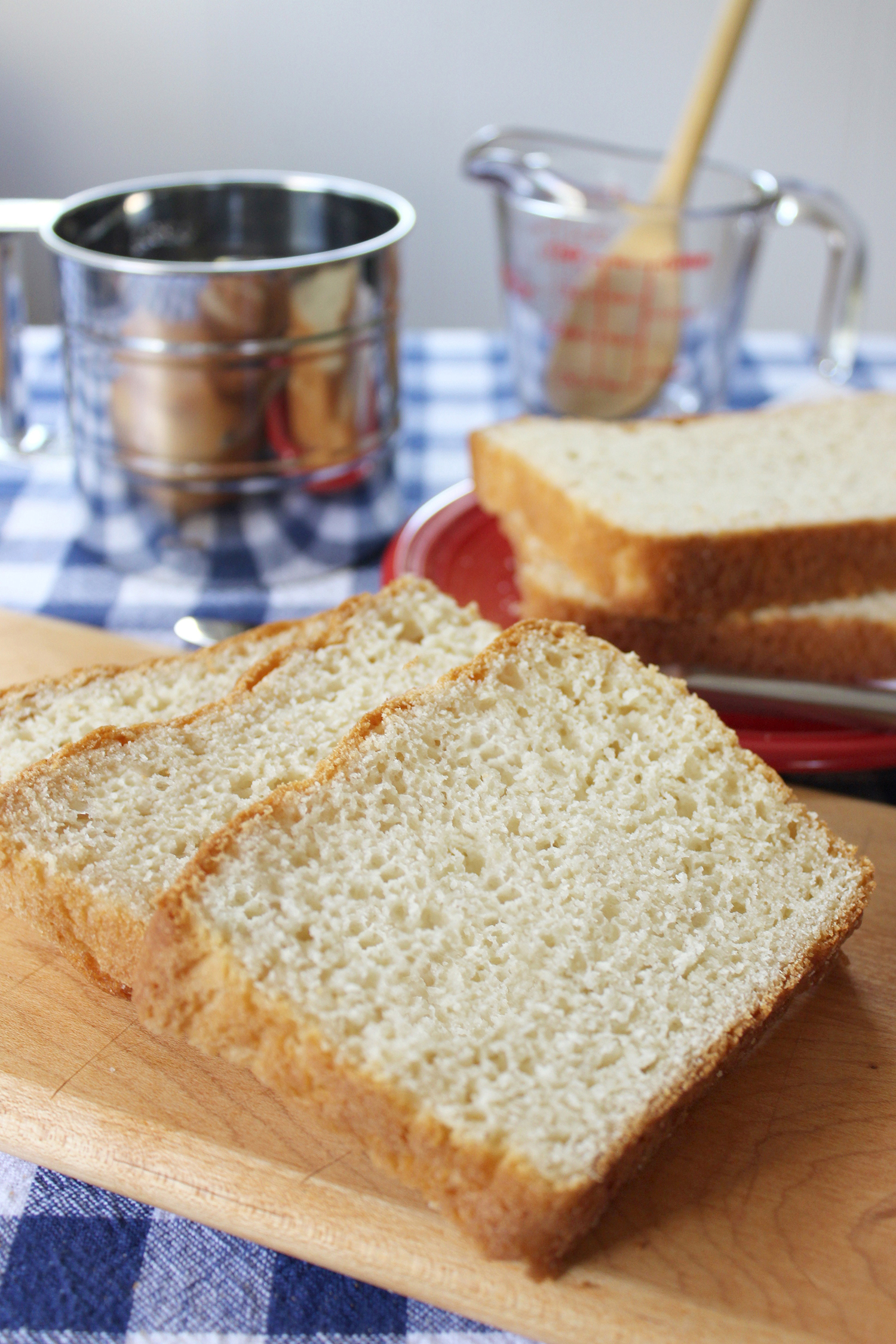 ¼ cup, plus 1 Tbsp water
1 cup buttermilk
3 eggs, large, lightly beaten
¼ cup canola oil (may substitute butter)
2 cup brown rice flour
½ cup potato starch
½ cup tapioca flour
3½ tsp xanthan gum
1½ tsp salt
¼ cup sugar
1 Tbsp egg replacer, optional
One package (2¼ tsp, ¼oz, 7g) RED STAR Active Dry Yeast
Combine wet ingredients; pour carefully into baking pan. Measure dry ingredients; mix well to blend. Add to baking pan. Carefully set pan in bread maker. Select NORMAL/WHITE cycle, or GLUTEN FREE CYCLE (if machine has one); start machine. After mixing action begins, help any unmixed ingredients into the dough with a rubber spatula, keeping to edges and top of batter to prevent interference with the paddle. Remove pan from the machine when bake cycle is complete. Invert pan and shake gently to remove bread. Cool upright on a rack before slicing.
In a mixing bowl, combine the wet, room temperature ingredients and mix well. All dry ingredients, including the Active Dry Yeast, should be thoroughly blended together before adding to the wet ingredients. Mixing them together in a bowl with a wire whisk or shaking them together in a gallon size, self-sealing plastic bag is suggested. Gluten-free flours are very fine and need to be well blended before liquid is added to them.
With the hand mixer on a low speed, gradually add the dry ingredients to the wet until well blended. Beat about 10 minutes. Pour batter into three 2x5-inch greased bread pans or one large 9x5-inch loaf pan; allow to rise approximately 1 hour. Bake at 375°F for 30 to 60 minutes respectively; use a toothpick to test for doneness.
When baking is complete, remove the pan from the oven and wait for 10 minutes before removing the bread from the pan. Cool on wire rack before slicing.
NOTE: We recommend using Active Dry Yeast in gluten free recipes. The fast action of the instant (Quick Rise) yeast may cause the dough or finished loaf to collapse. You can substitute Instant (Quick Rise) in place of Active Dry Yeast in gluten free recipes. When using Instant Yeast, expect your batter/dough to rise faster - about 50% faster. Adjust your rise times accordingly. Traditional methods: substitute equal amounts; Bread Machine: use ½ tsp Instant Yeast OR ¾ tsp Active Dry Yeast per cup of flour in your recipe. Visit Gluten Free tips and Lessons in Yeast & Baking for more information.
Recipe featured at Yesterfood.
Recipe by
Red Star Yeast
at https://redstaryeast.com/recipes/gluten-free-farmhouse-buttermilk-bread/