Cream Cheese Dessert Coffee Cake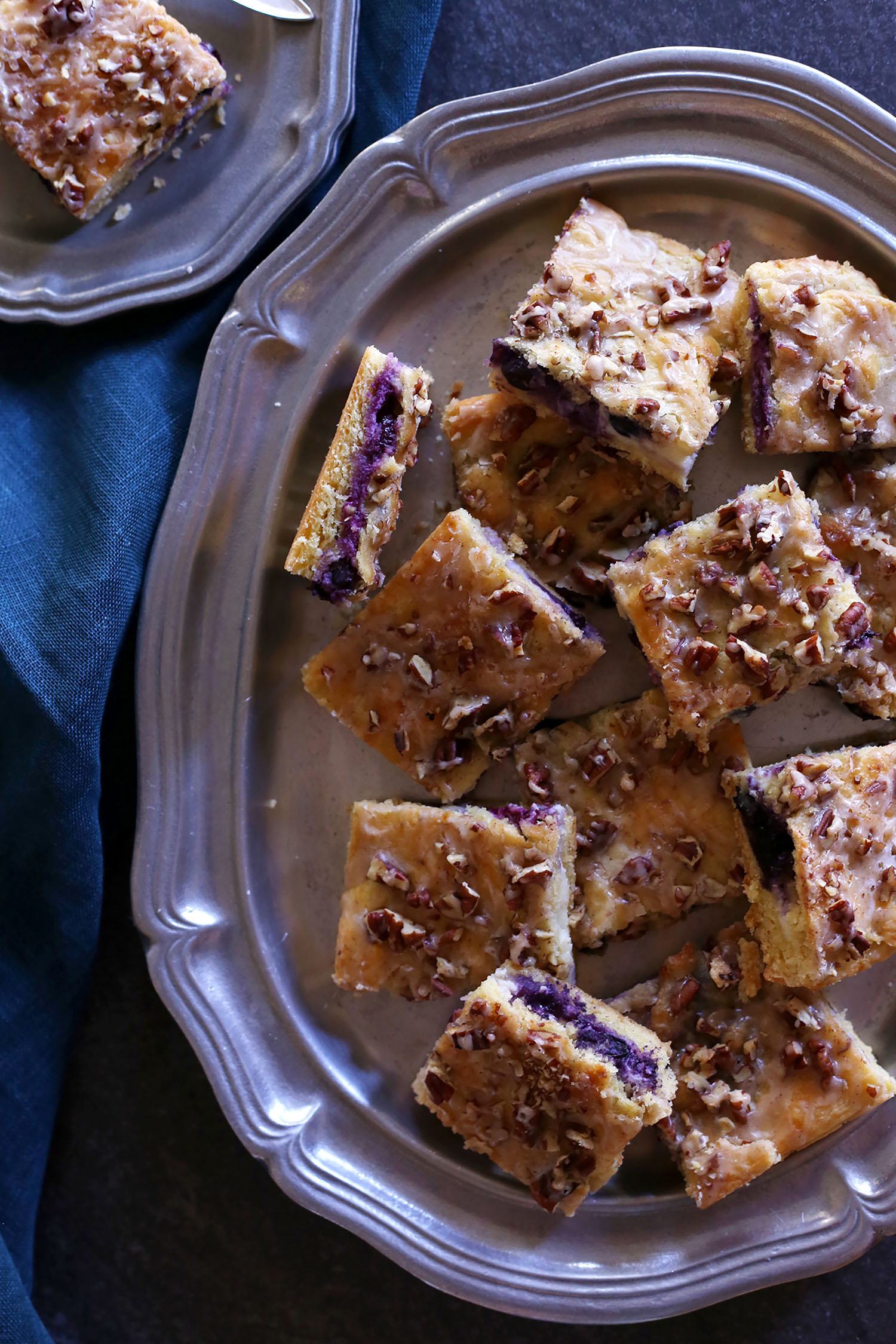 1 package (2¼ tsp, ¼oz, 7g) RED STAR Active Dry Yeast
¼ cup water
1 Tbsp sugar, divided
2½ cup all-purpose flour
1 tsp salt
1 cup butter, cut into pieces
4 egg yolks
Two 8 oz. packages cream cheese, softened
1 cup sugar
1 egg yolk
1½ cups blueberries (optional)
1 cup powdered sugar
1 tsp vanilla
2 to 3 Tbsp water
1 egg white, slightly beaten
½ cup pecans, finely chopped
In small bowl, dissolve yeast in water heated to 110 - 115°F with 1 teaspoon of the sugar. Let stand 5 minutes. In large bowl, combine flour, remaining sugar and salt. Mix well. With pastry blender, cut in butter until the consistency of cornmeal. Add dissolved yeast and egg yolks to flour mixture; mix lightly with fork. Shape prepared dough into a ball. Cover with plastic wrap; refrigerate for 2 hours. (This is a rich dough; it rises very little.)
Prepare Filling: Beat cream cheese, 1 cup sugar and egg yolk until smooth; set aside.
Prepare Glaze: Combine Glaze ingredients; blend until smooth.
Divide dough into 2 parts. On lightly floured surface, roll each half into a 15x10-inch rectangle. Roll rectangle onto rolling pin to transfer to a greased 15x10-inch jelly roll pan. Spread prepared filling over dough. Top evenly with blueberries (optional), pressing gently into the filling. Carefully place remaining rectangle over filling. Topping: Brush top of dough with slightly beaten egg white. Sprinkle pecans evenly over top of dough. Cover; let rise in warm place about 1 hour. Bake in preheated 350°F oven for 20-25 minutes. Drizzle Glaze over warm coffee cake. When cool, cut into squares or bars. Store in refrigerator. Reheat in warm oven.
Recipe featured at Tutti Dolci.
Recipe by
Red Star Yeast
at https://redstaryeast.com/recipes/cream-cheese-dessert-coffeecake/