Granola Crunch Coffee Cake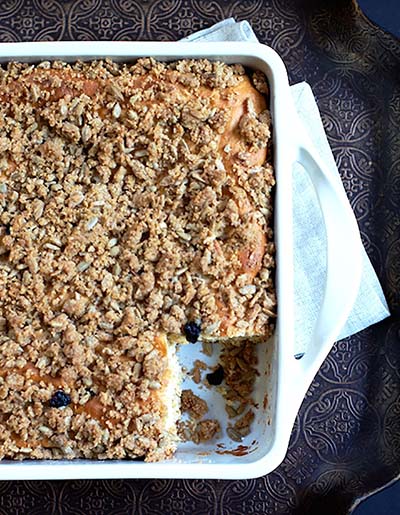 Yield:
One 9x13-inch coffee cake
3 cups all-purpose flour
1 package (2¼ tsp, ¼oz, 7g) RED STAR Active Dry Yeast
½ cup granola
⅓ cup sugar
½ tsp salt
½ cup milk
½ cup water
¼ cup shortening
2 eggs
½ cup sugar
½ cup all-purpose flour
½ cup sunflower nuts
1 tsp cinnamon
¼ cup butter or margarine, melted
In large mixer bowl, combine 1½ cups flour, yeast, granola, sugar and salt; mix well. In saucepan, heat milk, water and shortening to 120-130°F (shortening does not need to melt); add to flour mixture. Add eggs. Blend at low speed until moistened; beat 3 minutes at medium speed. By hand, gradually stir in remaining flour to make a stiff batter. Cover; let rise in warm place until light and doubled, about 45 minutes. Prepare Topping by combining all ingredients; mix well. Stir down batter; spread evenly into greased 13 x 9- inch baking pan. Sprinkle with Topping; with back of teaspoon, press into batter to make random indentations. Cover; let rise in warm place until light, about 30 minutes. Bake in preheated oven at 375°F for 30 to 35 minutes until golden brown. Serve warm or cold.
You can substitute Instant (fast-rising) in place of Active Dry Yeast in batter/no knead recipes. When using Instant Yeast, expect your batter/dough to rise faster - about 50% faster. Adjust your rise times accordingly. Traditional methods: use equal amounts; Bread Machine: use ½ tsp Instant Yeast OR ¾ tsp Active Dry Yeast per cup of flour in your recipe. Visit our Lessons in Yeast & Baking for more information.
This recipe is featured at Food Wanderings.
Photo shows homemade granola with blueberries - see Food Wanderings post for granola
recipe
Recipe by
Red Star Yeast
at https://redstaryeast.com/recipes/granola-crunch-coffeecake/