Hawaiian Honey Bread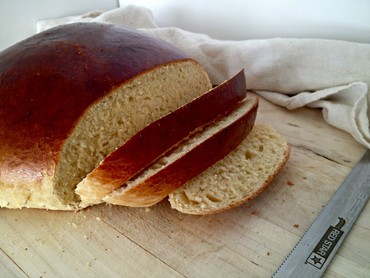 Yield:
1 large round loaf
4¼ cups bread flour
2 packets (1/4oz, 7g) or 4½ tsp Red Star Active Dry Yeast
⅓ cup nonfat dry milk
1 tsp salt
½ cup pineapple juice
½ cup water
⅓ cup shortening or butter
¼ cup honey
2 eggs
1 drop yellow food coloring, if desired
1 egg + 1 Tbsp water for egg wash
In large mixer bowl, combine 2¼ cups flour, yeast, dry milk and salt; whisk well to blend.
In saucepan, heat pineapple juice, ½ cup water, shortening (or butter) and honey until warm (120-130°F; shortening/butter does not need to melt). Add to flour mixture.
Add 2 eggs and food coloring to flour mixture.
Blend at low speed until moistened; beat 3 minutes at medium speed. By hand, gradually stir in enough remaining flour to make a soft dough. Knead on floured surface until smooth and elastic. Place in greased bowl, turning to grease top. Cover; let rise in warm place until double, about 15-30 minutes.
Punch down dough. On lightly floured surface, shape into a round loaf. Place in greased 9 or 10-inch round pie pan. Cover; let rise in warm place about 15-30 minutes.
Preheat oven to 375ºF
Whisk together 1 egg and 1 tablespoon water; brush loaf. Bake for 35 to 40 minutes until golden brown. Remove from pan; cool on wire rack.
Red Star recipe. Photo by Cooking with Books.