Nutella Glazed Italian Doughnuts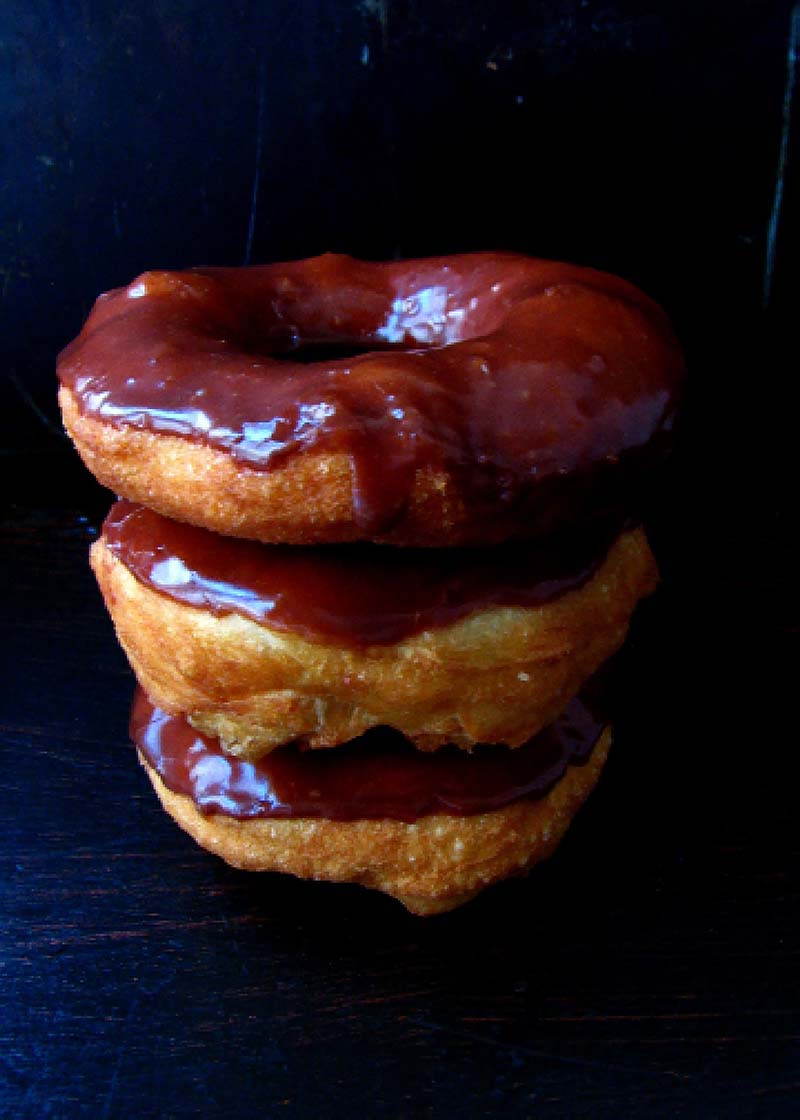 3 cups all-purpose flour
1 cup warm water (110-115°F)
1 package (2¼ tsp, ¼oz, 7g) RED STAR Active Dry Yeast
1 Tbsp oil
1 tsp salt
1 tsp sugar
Oil for frying
1 cup powdered sugar
3 Tbsp Nutella (or your favorite chocolate hazelnut spread)
4 Tbsp whipping cream
Pinch of salt
In a mixing bowl, whisk warm water, yeast and sugar. Set aside until yeast is proofed, about 10 minutes. Mixture will be foamy. Whisk in oil and salt. Slowly add in 2½ cups flour to the yeast mixture.
Knead dough by hand for about 5 minutes until smooth ball forms. Add in remaining flour as needed to make a soft, tacky dough. Place dough in a lightly oiled bowl and cover for 1 hour or until dough has doubled in size.
Divide dough in half. (*See note below if storing other half for later use.)
Pour oil into a heavy bottomed pot, about 2 inches up the pan and heat to 350°F. Use a candy thermometer to check temperature.
Roll dough out to 1-inch thickness. Using a doughnut cutter, cut out doughnuts.
Place doughnuts into hot oil and cook about 1 minute on each side or until golden brown. Using a slotted spoon or tongs remove donuts and place on a cookie sheet lined with paper towels.
Repeat with other half of dough.
Make Nutella Glaze (for one dozen doughnuts -- double glaze ingredients if making two dozen at once): In a medium bowl, whisk together Nutella, milk, powdered sugar and a pinch of salt until smooth.
Once cooled, gently dip top of doughnuts into the Nutella glaze.
Shake off excess glaze and place doughnut on cooling rack. Serve as is or add toppings, such as sprinkles, nuts, coconut.
Recipe by Jenna Edmiston.
Reserving half the dough for later use -- wrap dough in cling wrap, then place the covered ball of dough in a zipper freezer bag and store in freezer for up to two months. Best if not stored in a self-defrosting freezer. When ready to use, place on counter and let it come to room temperature. Proceed, starting with step 6 above.
Recipe by
Red Star Yeast
at https://redstaryeast.com/recipes/nutella-glazed-italian-doughnuts/