Strawberry Sweet Rolls with Vanilla Cream Cheese Glaze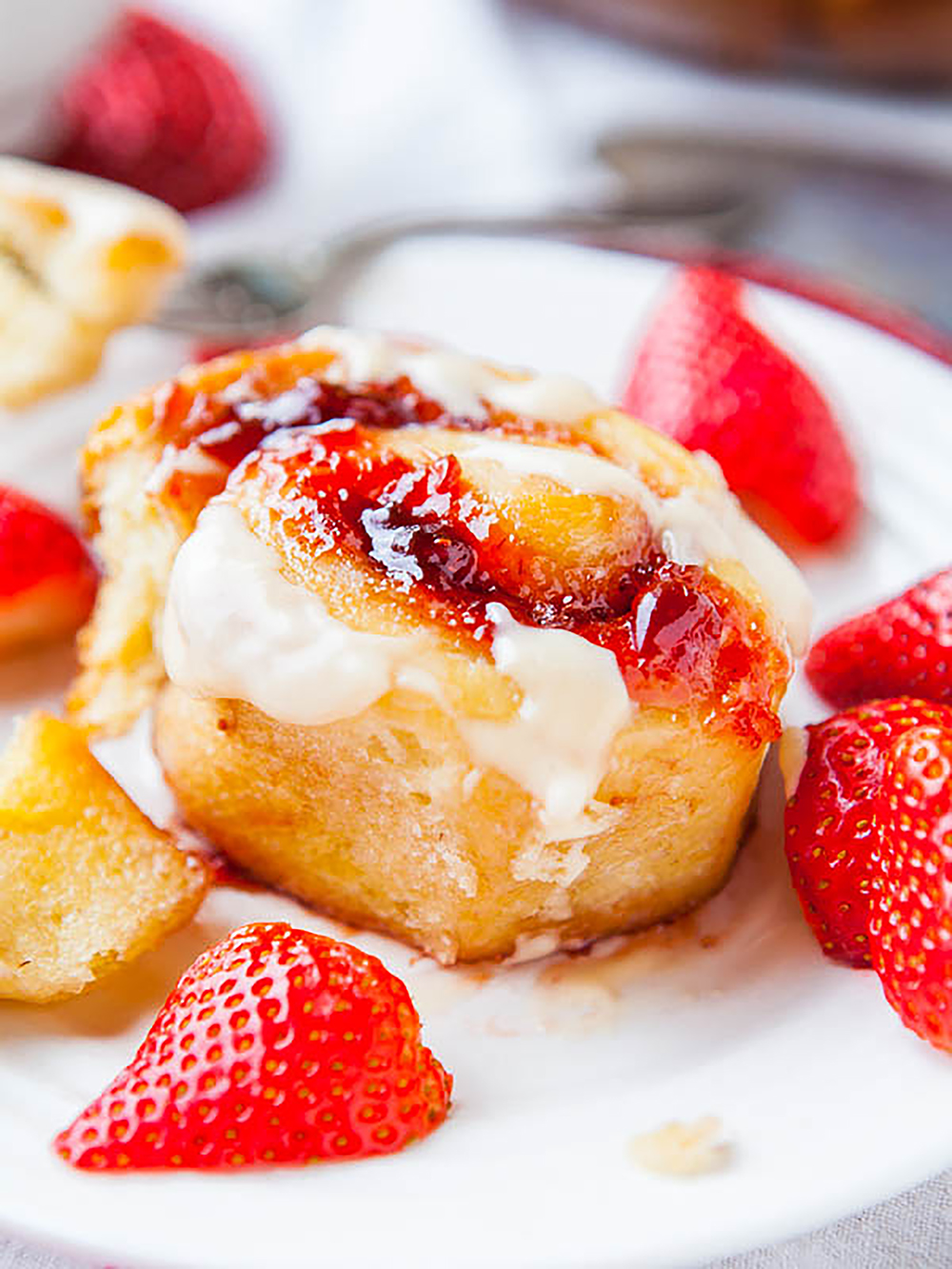 1 large egg
2¼ cups all-purpose flour
3 Tbsp granulated sugar
3 Tbsp canola or vegetable Oil
2¼ tsp (one package) Platinum Yeast
Pinch of salt, to taste
½ cup milk
2 Tbsp unsalted butter, softened
¾ cup strawberry preserves or jam (or any other flavor)
3 oz (about ⅓ cup) cream cheese, softened
⅓ cup granulated sugar
2 to 3 Tbsp unsalted butter, softened
1 tsp vanilla extract
For the Dough:
To the bowl of a stand mixer fitted with the paddle attachment (or make and knead by hand using a large mixing bowl; plan to knead for about 10 minutes), combine all ingredients other than milk; set aside.
Add milk to a glass measuring cup and warm to 120 to 130°F, about 45 seconds on high power in the microwave.
Pour the milk over the ingredients in the mixing bowl and knead on low speed for about 7 minutes (10 minutes by hand).
If after 5 minutes dough is very sticky and it seems more flour is needed, add more flour, 1 tablespoon at a time, until the dough clears the side of the bowl, but sticking to the bottom is okay. The dough is sticky and tacky, although not excessively so.
After kneading, turn the dough out into a large, greased bowl, cover with plastic wrap, and let it rise in a warm, draft-free place for about 2 hours, or until doubled in size.
After the dough has doubled, punch it down, turn it out onto a floured surface or silicone mat and knead it for about 3 minutes.
For the Filling:
Spray a 9- or 10-inch pie plate or similar sized baking dish with cooking spray; set aside.
With a rolling pin, roll dough into approximately an 18-inch-by-12-inch rectangle, just eyeball it.
Add the butter, and spread evenly over the surface.
Add the jelly and spread evenly, leaving a small margin near edges.
Starting with a long side, roll to form a tight cylinder.
Slice the cylinder into 8 to 10 evenly sized pieces using a bench scraper, serrated knife, or plain unflavored dental floss (works great to not squish and compact the log). Jelly will escape out; it's to be expected. Push back in what you can but don't worry about it.
Arrange the rolls in the prepared baking pan. Cover with plastic wrap.
At this point you can...Either - Allow the rolls to rise in a warm, draft-free place until nearly doubled, about 60 to 75 minutes and then bake. Or - Refrigerate the rolls for up to 18 hours. This is the Make-Ahead/Overnight Option. Prior to baking, let dough rise in a warm, draft-free place until nearly doubled, about 60 to 75 minutes.
Which ever option you choose, in the last minutes of rising, preheat oven to 350°F.
Bake at 350°F for 25 to 30 minutes, or until lightly golden on top and cooked through. If you notice your rolls are becoming darker before centers are cooking through, covering with foil in the second-half of cooking will reduce over-browning.
For the Glaze:
While rolls bake, make the Cream Cheese Glaze by combing all ingredients in a small bowl and beating until smooth, either with a whisk or a mixer. Play with ratios of all ingredients to suit your taste.
After baking, generously drizzle glaze over the warm rolls. Serve immediately. Rolls are best eaten fresh, but will keep in an airtight container at room temperature for up to 4 days. Reheat leftover rolls for a few seconds in the microwave before serving. If you object to keeping cream cheese frosting at room temperature, then refrigerate the leftover rolls. If you have extra unused glaze, it makes an amazing fruit dip; or it can be stored in the refrigerator for up to 2 weeks.
Recipe in partnershipe with Averie Cooks.
Recipe by
Red Star Yeast
at https://redstaryeast.com/recipes/strawberry-sweet-rolls-with-vanilla-cream-cheese-glaze/