Cinnamon Pecan Streusel Babka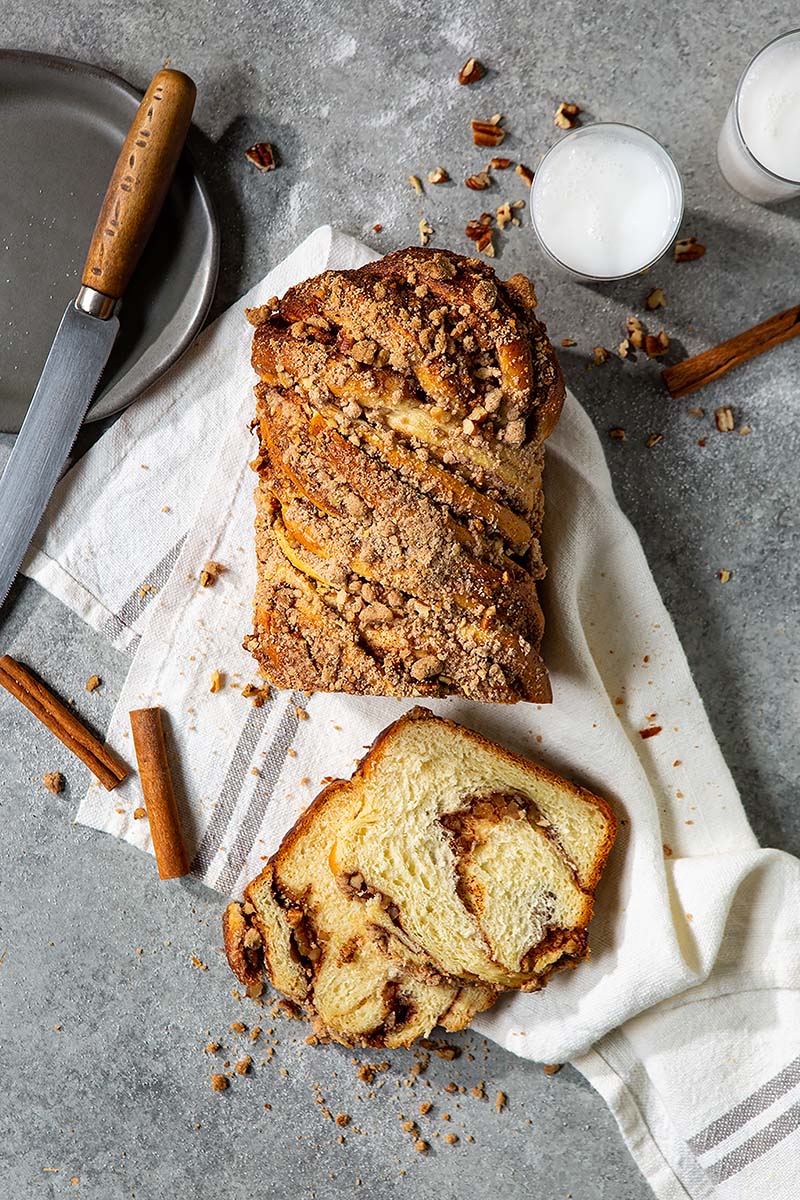 4 cups (509 grams) bread flour, divided
¼ cup (50 grams) granulated sugar
1 (0.25-ounce) package (7 grams) Platinum Yeast
2 teaspoons (6 grams) kosher salt
⅓ cup (80 grams) plus 1 tablespoon (15 grams) water, divided
⅓ cup (76 grams) unsalted butter
⅓ cup (80 grams) whole milk
1 teaspoon (4 grams) vanilla extract
3 large eggs (150 grams), room temperature and divided
Cinnamon Filling (recipe follows)
½ cup (57 grams) finely chopped pecans
Cinnamon Pecan Streusel (recipe follows)
Step 1. In the bowl of a stand mixer, whisk together 1¼ cups (159 grams) flour, sugar, yeast, and salt by hand.
Step 2. In a small saucepan, heat ⅓ cup (80 grams) water, butter, milk, and vanilla over medium heat until an instant-read thermometer registers 120°F (49°C) to 130°F (54°C). Add warm butter mixture to flour mixture; using the paddle attachment, beat at medium-low speed until combined. Add 2 eggs (100 grams), and beat until combined. With mixer on low speed, gradually add 2½ cups (318 grams) flour, beating just until combined and stopping to scrape sides of bowl.
Step 3. Switch to the dough hook attachment. Beat at low speed until a soft, somewhat sticky dough forms, 5 to 7 minutes, stopping to scrape sides of bowl and dough hook; add up to remaining ¼ cup (32 grams) flour, 1 tablespoon (8 grams) at a time, if dough is too sticky. Turn out dough onto a very lightly floured surface, and shape into a smooth round.
Step 4. Lightly oil a large bowl. Place dough in bowl, turning to grease top. Cover and let rise in a warm, draft-free place (75°F/24°C) until doubled in size, 30 to 45 minutes.
Step 5. Punch down dough. Turn out onto a very lightly floured surface, and gently press into a 9x8-inch rectangle. Loosely wrap in plastic wrap, and refrigerate for at least 1 hour or up to overnight.
Step 6. Spray a 9x5-inch loaf pan with cooking spray. Line pan with parchment paper, letting excess extend over sides of pan.
Step 7. On a lightly floured surface, roll chilled dough into a 14x12-inch rectangle (about ¼ inch thick). Using a small offset spatula, spread Cinnamon Filling onto dough, leaving a ½-inch border on both short sides and one long side; sprinkle with chopped pecans. Starting with long side opposite border, roll up dough, jelly roll style, and pinch seam to seal. Gently lift log at each end, and stretch to 15 inches long. Place seam side down. (Make sure seam is off to one side instead of in center.). Using a sharp serrated knife, cut in half lengthwise. Turn cut side up, and place halves in an "X." Twist one half of "X" twice; pinch ends, and tuck under. Repeat with remaining half of "X." Place in prepared pan one end at a time, making sure to keep cut side up and ends tucked. Cover and let rise in a warm, draft-free place (75°F/24°C) until puffed, 25 to 35 minutes. Test dough for fermentation using the finger dent test. (See PRO TIP.)
Step 8. Preheat oven to 350°F (180°C).
Step 9. In a small bowl, whisk together remaining 1 egg (50 grams) and remaining 1 tablespoon (15 grams) water. Using a pastry brush, brush egg wash on top of dough. Sprinkle with half of Cinnamon Pecan Streusel.
Step 10. Bake for 20 minutes. Top with remaining Cinnamon Pecan Streusel, and bake until golden brown and an instant-read thermometer inserted in center registers 190°F (88°C), 35 to 45 minutes more, covering with foil to prevent excess browning, if necessary. Let cool in pan for 10 minutes. Using excess parchment as handles, remove from pan, and let cool completely on a wire rack.
Cinnamon Filling
Makes about ½ cup
• ⅓ cup (73 grams) firmly packed light brown sugar
• 3 tablespoons (42 grams) unsalted butter, room temperature
• 2 teaspoons (4 grams) ground cinnamon
• ¼ teaspoon kosher salt
In a small bowl, press and stir together all ingredients with a silicone spatula until well combined.
Cinnamon Pecan Streusel
Makes about ½ cup
• 5 tablespoons (40 grams) all-purpose flour
• 4 teaspoons (16 grams) granulated sugar
• ½ teaspoon (1 gram) ground cinnamon
• ¼ teaspoon kosher salt
• 1½ tablespoons (21 grams) cold unsalted butter, cubed
• 2 tablespoons (14 grams) chopped pecans
In a medium bowl, stir together flour, sugar, cinnamon, and salt. Using your fingers, cut in cold butter until mixture is crumbly; crumble with your fingertips until desired consistency is reached. Stir in pecans. Refrigerate until ready to use.
PRO TIP: Once you think your dough has properly proofed and it has puffed up, conduct the finger dent test. Gently press two fingers about ½ inch into the top of the dough. If it slowly and partially fills back in, the dough has correctly proofed.
Recipe by
Red Star Yeast
at https://redstaryeast.com/recipes/cinnamon-pecan-streusel-babka/