Brioche Nanterre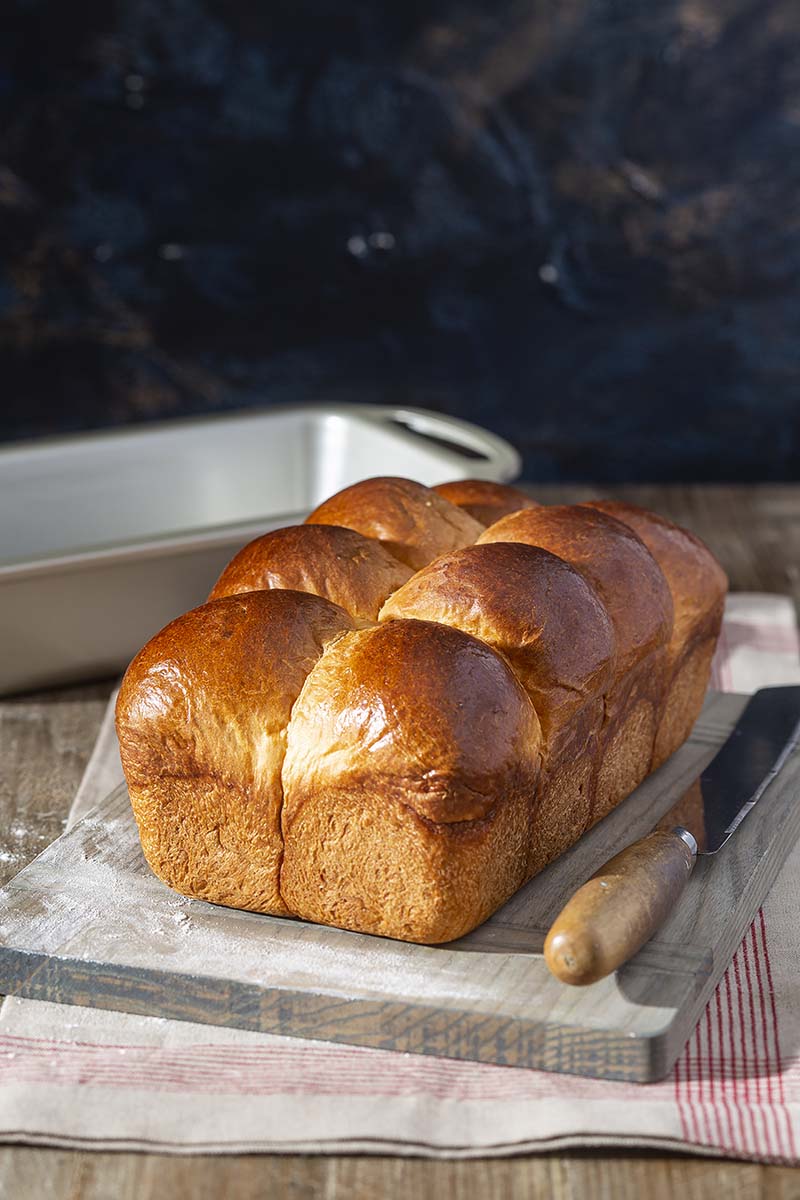 ½ cup (120 gams) warm whole milk (110°F/43°C to 115°F/46°C)
1 (0.25-ounce) package (7 grams) Platinum Yeast
3 Tablespoons (36 grams) granulated sugar, divided
3¼ cups (406 grams) all-purpose flour, divided
2 teaspoons (6 grams) kosher salt
3 large eggs (150 grams), room temperature and divided
7 Tablespoons (98 grams) unsalted butter, room temperature
1 Tablespoon (15 grams) water
Step 1. In a small bowl, stir together warm milk, yeast, and 1 teaspoon (4 grams) sugar. Let stand until foamy, 5 to 10 minutes.
Step 2. In the bowl of a stand mixer, whisk together 2¾ cups (344 grams) flour, salt, and remaining 2 tablespoons plus 2 teaspoons (32 grams) sugar. Add yeast mixture and 2 large eggs (100 grams); using the paddle attachment, beat at low speed until a shaggy dough forms, stopping to scrape sides of bowl.
Step 3. Switch to the dough hook attachment. Beat at low speed until smooth and elastic, 5 to 6 minutes; add up to remaining ½ cup (62 grams) flour, 1 tablespoon (8 grams) at a time, if dough is too sticky. Add butter, 1 tablespoon (14 grams) at a time, beating until combined after each addition (8 to 9 minutes total). Beat until a smooth and elastic dough forms, 9 to 10 minutes. Turn out onto a lightly floured surface, and shape into a smooth round.
Step 4. Lightly oil a large bowl. Place dough in bowl, turning to grease top. Cover and let rise in a warm, draft-free place (75°F/24°C) until doubled in size, 45 minutes to 1 hour.
Step 5. Spray a 9x5-inch loaf pan with cooking spray.
Step 6. Punch down dough, and let stand for 10 to 15 minutes. On a lightly floured surface, divide dough into 8 portions (85 to 90 grams each). Roll each portion into a smooth ball. Place in prepared pan in 2 rows of 4. Cover and let rise in a warm, draft-free place (75°F/24°C) until almost doubled in size, 30 to 45 minutes.
Step 7. Preheat oven to 350°F (180°C).
Step 8. In a small bowl, whisk together 1 tablespoon (15 grams) water and remaining 1 egg (50 grams). Brush top of loaf with egg wash.
Step 9. Bake until an instant-read thermometer inserted in center registers 190°F (88°C), 28 to 35 minutes. Let cool in pan for 10 minutes. Remove from pan, and let cool completely on a wire rack.