Country Loaf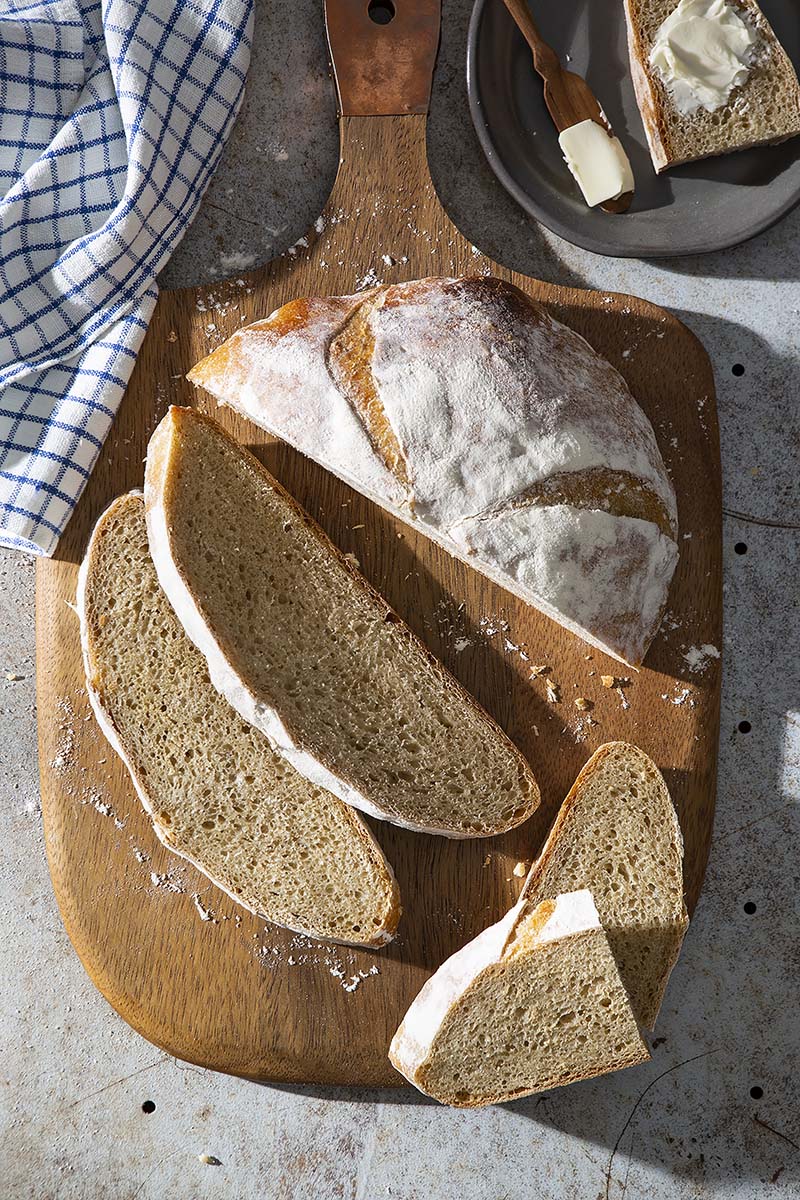 Poolish:
¾ cups (95 grams) bread flour
½ cup (120 grams) warm water (90°F/32°C to 100°F/38°C)
2 Tablespoons (16 grams) stone-ground whole wheat flour
¼ teaspoon (1 gram) Platinum Instant Yeast
1 cup plus 3 Tablespoons (285 grams) warm water (110°F/43°C to 115°F/46°C), divided
2 teaspoons (6 grams) Platinum Instant Yeast
1 teaspoon (4 grams) granulated sugar
2½ cups (318 grams) plus ⅔ cup (85 grams) bread flour, divided
¾ cup (94 grams) stone-ground whole wheat flour
1 Tablespoon (9 grams) kosher salt
Step 1. For poolish: In a medium bowl, stir together bread flour, ½ cup (120 grams) warm water, whole wheat flour, and yeast until thick and no dry bits of flour remain. Cover with plastic wrap, and let stand at room temperature for 8 to 12 hours.
Step 2. For dough: In a small bowl, whisk together ½ cup (120 grams) water, yeast, and sugar. Let stand until foamy, about 5 minutes.
Step 3. In the bowl of a stand mixer fitted with the paddle attachment, place poolish. Add yeast mixture and remaining ½ cup plus 3 tablespoons (165 grams) water. Add 2½ cups (318 grams) bread flour, whole wheat flour, and salt. Beat at low speed until a rough dough forms, about 1 minute. Scrape sides of bowl, cover, and let stand for 15 minutes.
Step 4. Switch to the dough hook attachment. With mixer on low speed, slowly add remaining ⅔
cup (84 grams) bread flour, beating until soft and elastic and dough starts to pull from sides of bowl, 14 to 16 minutes, stopping to scrape sides of bowl and dough hook.
Step 5. Lightly oil a large bowl. Place dough in bowl, turning to grease top. Cover and let rise in a warm, draft-free place (75°F/24°C) until doubled in size, 30 to 45 minutes.
Watch video below for shaping tips.
Step 6. Turn out dough onto a lightly floured surface. Using your fingertips, gently press dough into a 9-inch square. Fold right third of dough over to center; fold left third over first fold. Cover with a kitchen towel, and let stand for 20 to 30 minutes.
Step 7. For final shape, using your fingertips, press dough into a 10x7-inch rectangle, reflouring surface if needed. Grab bottom edge, and gently stretch and fold bottom third over to center. Stretch right side out, and fold right third over to center; repeat with left side. Finish by folding top third over previous folds. Roll loaf away from you, and using both hands, cup dough and pull it toward you to seal. Turn dough 90 degrees, and pull again until a tight, smooth boule forms. Place boule, seam side up, in a banneton or a medium bowl lined with a kitchen towel heavily dusted with bread flour. Loosely cover dough with a kitchen towel, and let rise in a warm, draft-free place (75°F/24°C) until puffed, 30 to 45 minutes.
Step 8. Place a Dutch oven and lid in cold oven. Preheat oven to 500°F (260°C).
Step 9. Turn out boule onto a sheet of parchment paper lightly dusted with flour. Using a lame or razor blade, score top of loaf. Carefully remove hot Dutch oven from oven; remove lid, and place boule, still on parchment paper, in Dutch oven. Cover with lid, and place back in oven.
Step 10. Immediately reduce oven temperature to 425°F (220°C). Bake for 20 minutes. Remove lid, and bake until deep golden brown and an instant-read thermometer inserted in center registers 205°F (96°C), 10 to 15 minutes more. Immediately remove loaf from Dutch oven, and let cool completely on a wire rack.