Overnight Apple Fritter Monkey Bread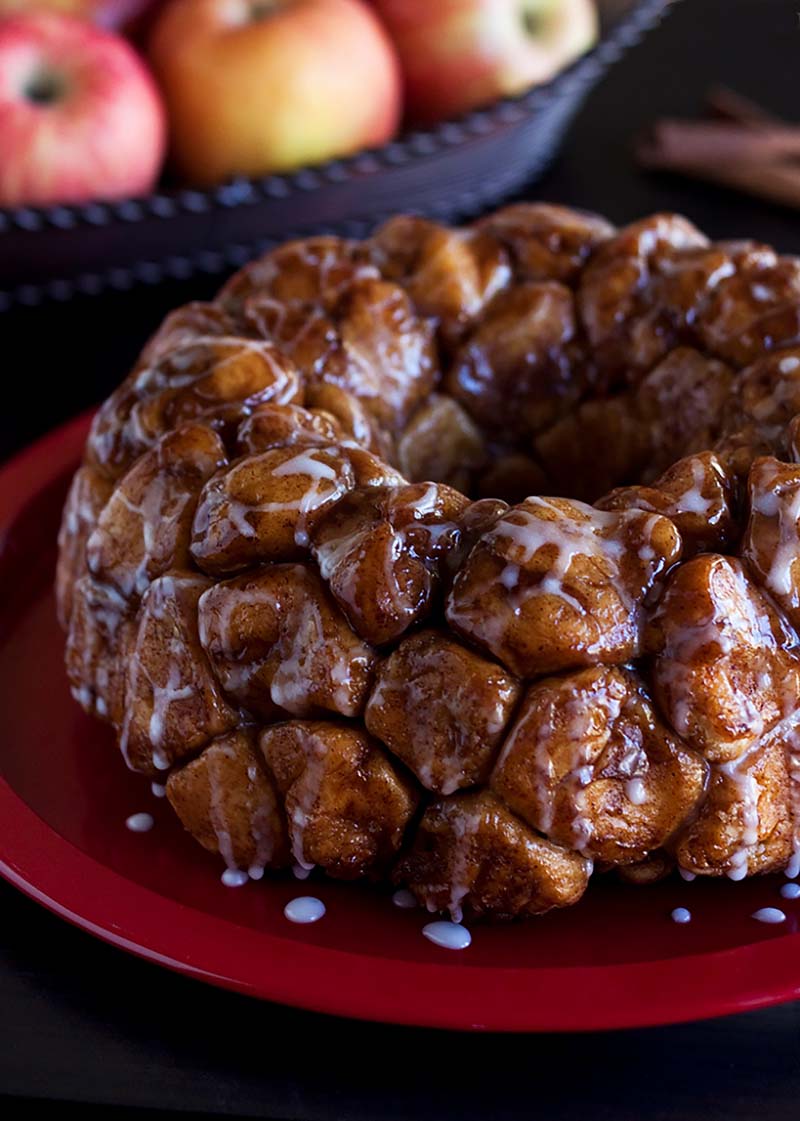 3 Fuji or other apples, peeled, cored, and cut into ¼ inch pieces
2 Tbsp sugar
1 tsp ground cinnamon
1 Tbsp fresh lemon juice
1 Tbsp unsalted butter
1 cup milk
⅓ cup unsweetened apple juice
¼ cup granulated sugar
2 tsp salt
2 Tbsp unsalted butter
3 to 4 cups bread flour
One package (2¼ tsp, ¼oz, 7g) RED STAR Active Dry Yeast
1 cup light brown sugar, packed
2 tsp ground cinnamon
½ cup (1 stick) unsalted butter, melted
½ cup powdered sugar
2 tsp milk
½ tsp vanilla
Caramelized apples: In a large bowl, combine apples, sugar, cinnamon, and lemon juice. Melt the butter in a sauté pan over medium heat. Add the apple mixture and sauté until apples are softened and all the liquid is evaporated. Spread in a thin layer on a baking sheet to cool to room temperature.
In microwave safe bowl, heat milk, apple juice, sugar, salt and butter to 120-130°F. Stir to dissolve sugar.
Mix 2 cups flour and yeast in stand mixer fitted with a beater blade. Turn machine to low and slowly add the heated liquid mixture. Beat on medium speed for 3 minutes.
Switch to the dough hook, gradually add the remaining flour (add more or less as necessary) until dough clings to the hook and almost cleans the sides. Knead until the dough is smooth.
Scrape the dough off the dough hook in to the bowl and add the cooled apples. With the dough hook, knead the apples in to the dough, adding more flour as necessary to form a soft, slightly sticky dough.
Turn dough onto lightly floured counter and knead briefly to form a round ball. Coat a large bowl with nonstick cooking spray. Place dough in bowl and coat surface of dough with cooking spray. Cover bowl with plastic wrap and rise in a warm place until dough doubles in size, about 2 hours.
Butter a 12-cup Bundt pan with non stick cooking spray.
Make brown sugar coating: Mix brown sugar and cinnamon together in a small bowl. Place melted butter in second bowl. Set aside for the sugar coating.
Punch down the dough and pat into an 8-inch square on a flour surface. Using a bench scraper or knife, cut dough into 64 pieces. With floured hands, roll each dough piece into a ball.
Working one at a time, dip balls in melted butter, allowing excess butter to drip back into bowl. Roll in brown sugar mixture, then layer balls in Bundt pan, staggering the dough balls to build layers.
Cover Bundt pan tightly with plastic wrap and place in refrigerator overnight.
Approximately one hour before you want to bake your Monkey Bread, remove it from the refrigerator and let the dough come to room temperature and begin to rise. (It will rise a little in the refrigerator overnight.)
Preheat oven to 350°F. Unwrap pan and bake until top is deep brown and caramel begins to bubble around edges, 30 to 35 minutes. Cool in pan for 5 minutes, then turn out on platter and allow to cool slightly, about 10 minutes.
For the glaze: whisk powdered sugar, milk and vanilla in small bowl until smooth. Drizzle glaze over the top and sides of the bread. Serve warm. (Tip: Put the glaze in a Ziploc and snip off the corner to drizzle glaze on top.)
Recipe created by Barbara Bakes.
Recipe by
Red Star Yeast
at https://redstaryeast.com/recipes/overnight-apple-fritter-monkey-bread/