Speedy Orange Sweet Rolls
The soft and tender pillows are simply irresistible warm from the oven, fragrant with fresh orange filling and frosting. Make a double batch for your family and start a sweet new tradition.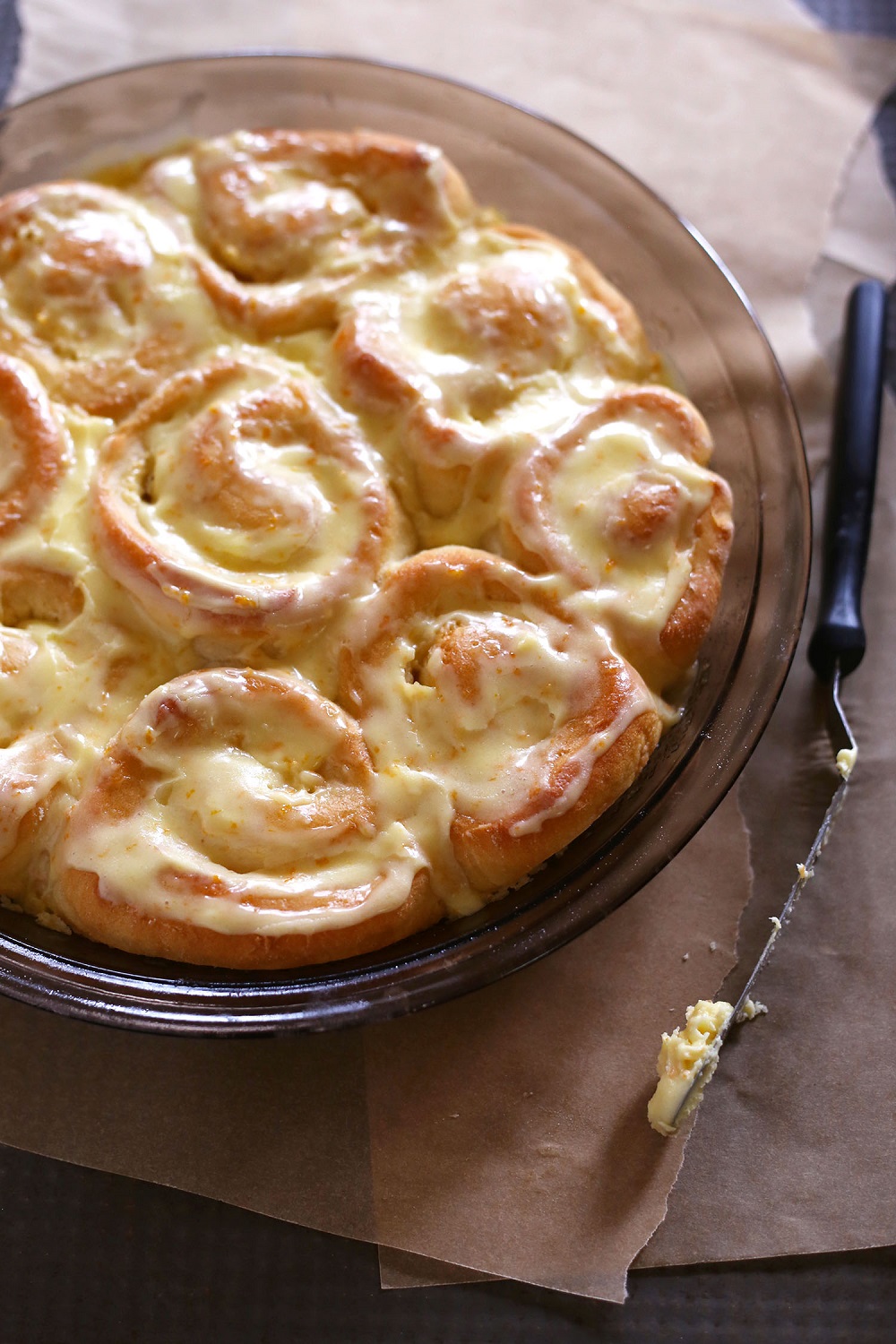 Ingredients
One package (2¼ tsp) RED STAR Platinum Yeast
½ cup water
1 egg
1¾ cups bread flour
1 Tbsp sugar
1 tsp salt
2 Tbsp soft butter or margarine
Filling / Frosting
1½ cups confectioners' sugar
1 grated rind of 1 orange
3 Tbsp soft butter
2 Tbsp orange juice
Instructions
Have water at 110°-115°F and all other ingredients at room temperature.


Dissolve the yeast in water. Let stand 3 to 5 minutes; stir. Blend in the egg, half of the flour, sugar, salt and butter. Beat until smooth. Stir in more flour a little at a time. First use a spoon, then mix with your hands. Dough should clean sides of bowl. Knead on lightly floured board until smooth and elastic. Place dough in lightly oiled bowl and turn to grease top. Cover; let rise until dough tests ripe. Grease 9-inch round pan. Blend Filling/Frosting ingredients. Beat until creamy.


Roll dough to a 7 x 14-inch rectangle. Spread with half of the Filling/Frosting. Roll, starting at the wide side. Pinch edge of dough into roll to seal. From 14-inch side, mark dough into 14 equal parts. "Tie-off" (see below) each piece with strong thread. Place in pan (10 around outer edge, 4 in the center). Let rise in warm place until indentation remains after lightly touching. Bake 20 to 25 minutes in preheated 400°F oven. Turn rolls upside down on a rack. Spread with syrup left in the pan. After this has "set", place a piece of waxed paper on the bottom of the rolls, turn right-side-up and place on a rack. Brush rest of Filling/Frosting over rolls.


To "Tie-Off" dough, take a piece of strong thread, or dental floss, about 16 inches long, slip under roll of dough and cross on top to cut slices smoothly and quickly.


NOTE: Depending on how tight you roll the dough, you can also place 9 rolls in a 9-inch greased round pan and remaining 5 rolls in another greased small baking dish. Bake at 350°F for 20 minutes, until golden.


Recipe featured at Tutti Dolci.