Salad Sticks
THIS RECIPE MAKES 36 STICKS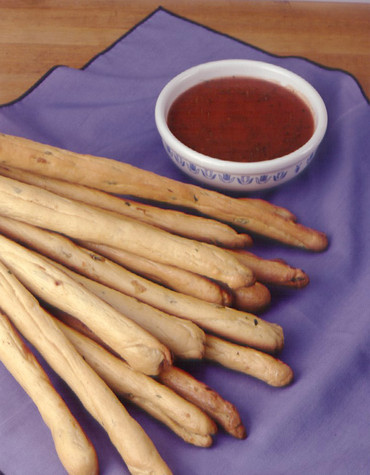 Ingredients
3 cups Bread Flour
2+1/4 tsp Active Dry Yeast
2 tsp Caraway
1 tsp Sage
½ tsp Nutmeg
¾ cup Milk
¼ cup Water
¼ cup Shortening
1 TBSP Sugar
1 tsp Salt
1 Egg
Instructions
Have water and milk at 120°-130°F and all other ingredients at room temperature.


Measure 1 cup of flour into large mixer bowl. Add yeast, caraway, sage, and nutmeg; blend. Measure milk, water, shortening, sugar, and salt into a pan. Heat until warm (120°-130°F), stirring constantly. Pour into bowl. Add the egg. Beat ½ minute at low speed, scraping bowl. Beat 3 more minutes at high speed. STOP MIXER. Gradually add the rest of the flour. Scrape down dough from sides of bowl. Cover with waxed paper, then aluminum foil. Refrigerate 2 to not more than 24 hours.


When ready to shape the bread sticks, pinch off a tablespoon of dough at a time. Roll between the hands, then on the board to 8-inch pencil-like strips. Place a little apart on two 12- x 15-inch greased baking sheets (or bake part at one time, the rest later). Let sticks rise in warm place until ripe...45 to 60 minutes. Bake 15 to 20 minutes in preheated oven to 400°F. Remove from pans and cool on racks.


Note: If desired, brush tops of bread sticks with egg then sprinkle with coarse salt, just before baking.


*You can substitute Instant (fast-rising) Yeast in place of Active Dry Yeast in batter/no knead recipes. When using Instant Yeast, expect your batter/dough to rise about 50% faster. Adjust your rise times accordingly. Traditional methods: use equal amounts; Bread Machine: use ½ tsp Instant Yeast OR ¾ tsp Active Dry Yeast per cup of flour in your recipe. Visit our Lessons in Yeast & Baking for more information on baking.
Nutrition Information
Serving size:
1 Stick
Calories:
210
Total Fat:
7g
Saturated fat:
3g
Carbohydrates:
33g
Sugar:
7g
Sodium:
310mg
Fiber:
2g
Protein:
6g
Cholesterol:
25mg
link