Batterway Cheese & Herb Focaccia
No knead focaccia - serve warm out of the oven with your favorite salad or dipping sauce.

This recipe makes 1 large or 2 small flat breads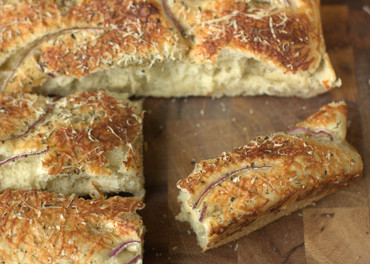 Ingredients
3 cups Bread Flour
2 TBSP Sugar
1 tsp Salt
½ tsp Basil
½ tsp Oregano
3 TBSP Shortening, soft
1+1/4 cups Water
2+1/4 tsp Active Dry Yeast
1 Egg


Topping


½ pound Shredded Natural Cheese
¼ cup Minced or Sliced Onion
½ tsp Basil
½ tsp Oregano
Instructions
Recipe featured at My Kitchen Addiction.


Have water at 110°-115°F and all other ingredients at room temperature. Measure the first 6 ingredients into a bowl; blend. Set aside. Pour the water into a mixing bowl; add the yeast. Let stand 3 to 5 minutes; stir. Add egg and ½ the flour-mixture. Beat 2 minutes with electric mixer on medium speed, or by hand until smooth. STOP MIXER. Add the rest of the ingredients and beat again with a spoon until smooth...1 to 1-1/2 minutes. Scrape down batter from sides of bowl. Cover. Let rise in warm place until doubled...about 60 to 90 minutes. Meanwhile, grease one 9 x 13- inch or two 8- or 9-inch square pans. Prepare Topping by blending the ingredients.


Transfer to pan and gently fold into a loose rectangle being careful not to de-gas the dough. This is a thick, somewhat sticky batter; spread evenly in the pan. Tap pans on table to settle the batter. Add the Topping. With buttered fingertips, make dents on the Topping, pressing almost to the bottom of the pan. Let rise until no more than doubled...30 to 40 minutes. Bake about 20 minutes or until golden brown on sides and tops, in preheated 375°F oven. Remove from pan and serve warm.


*You can substitute Instant (fast-rising) Yeast in place of Active Dry Yeast in batter/no knead recipes. When using Instant Yeast, expect your batter/dough to rise about 50% faster. Adjust your rise times accordingly. Traditional methods: use equal amounts; Bread Machine: use ½ tsp Instant Yeast OR ¾ tsp Active Dry Yeast per cup of flour in your recipe. Visit our Lessons in Yeast & Baking for more information on baking.