Crispy Cinnamon Rounds
Easy to make crispy cinnamon-sugar pecan rounds. The sugar on the bottom of the rounds caramelizes and gets crunchy while the inside of the rolls is light and fluffy. ~Barbara S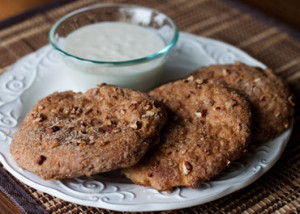 Ingredients
2¼ cups bread flour
2¼ tsp Red Star Active Dry Yeast
2 TBSP sugar
½ tsp salt
½ tsp nutmeg
¾ cup water
3 TBSP shortening
1 egg


TOPPING
¾ cup sugar
½ cup chopped pecans or walnuts
¼ cup brown sugar
1 tsp cinnamon
Instructions
This recipe is featured at Barbara Bakes.


In large mixer bowl, combine 1 cup flour, yeast, 2 TBSP sugar, salt and nutmeg; mix well. Add warm water (120-130°F), shortening, and egg to flour mixture. Blend at low speed until moistened; beat 3 minutes at medium speed. By hand, gradually stir in remaining flour to make a stiff batter. Cover; let rise in warm place until light and double, about 45 minutes.


Prepare Topping: Combine ¾ cup sugar, pecans, brown sugar and cinnamon; mix well. Pour half of sugar mixture onto wax paper at a time.


Stir down batter. Drop batter by tablespoons into sugar mixture; toss lightly to coat. Flatten each piece to a 4 or 5-inch circle, ⅛-inch thick, pressing sugar mixture into both sides. Place on greased foil-lined cookie sheets. Bake at 400°F for 12 to 15 minutes until light golden brown. (Do not overbake). Remove from cookie sheets; cool.


You can substitute Instant (fast-rising) in place of Active Dry Yeast in batter/no knead recipes. When using Instant Yeast, expect your batter/dough to rise faster - about 50% faster. Adjust your rise times accordingly. Traditional methods: use equal amounts; Bread Machine: use ½ tsp Instant Yeast OR ¾ tsp Active Dry Yeast per cup of flour in your recipe. Visit our Lessons in Yeast & Baking for more information.