Cheesy Herb Burger Buns
Making your own burger buns is a great way to add more flair and flavor to your cookout! These cheesy herb buns are soft and packed with Parmesan cheese and fresh chopped herbs.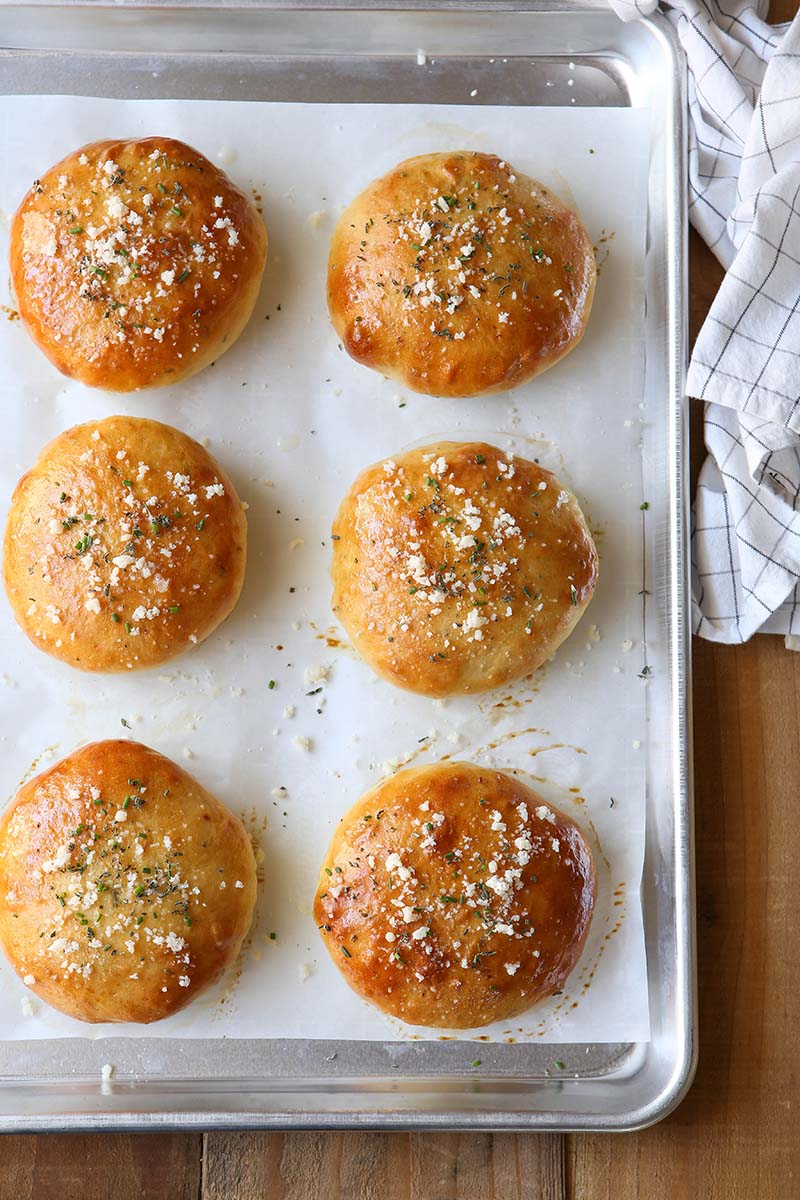 Ingredients
1 cup water
3 Tbsp milk
3 Tbsp unsalted butter
3½ cups bread flour
1 package (2¼ tsp, ¼oz, 7g) RED STAR Platinum Superior Baking Yeast
2 Tbsp granulated sugar
1½ tsp coarse salt
2 large eggs, lightly beaten
1 cup finely grated Parmesan cheese, or cheese of your choice
2 Tbsp chopped fresh herbs such as rosemary, sage, thyme, and chives
1 large eggs + 1 tsp water, beaten together, for egg wash
Optional topping:
2 Tbsp butter, melted
2 Tbsp grated Parmesan cheese
2 Tbsp chopped fresh herbs
Instructions
Combine the water, milk, and butter in a small saucepan and warm over medium low heat to 120-130°F.


Meanwhile, combine 2 cups of the bread flour, yeast, sugar, and salt in the bowl of a stand mixer, or in a large bowl if you plan to mix by hand.


Pour the warm water mixture into the bowl and stir with dough whisk or wooden spoon until combined.


Add the beaten eggs, cheese, and herbs and stir until combined.


Use dough hook to knead dough on low speed. Add the remaining flour ¼ cup at a time until dough comes together into a ball and begins to clear the sides of the bowl, but is still sticky to the touch. You may not need all of the flour.


Continue to knead the dough until smooth and elastic, about 5 minutes.


Cover with plastic wrap and let rise in a warm place until doubled in size, about 1 hour.


Gently punch down dough and divide into 8 equal portions. Shape into rounds and place on a sheet pan lined with parchment paper or a silicone baking mat.


Cover with plastic wrap and let rise until doubled, about 30 minutes more. Once or twice while rising, gently pat the tops of the buns, encouraging them to rise laterally, giving them the look of a traditional burger bun. Be careful not to press too hard.


Preheat oven to 400°F. Brush the tops of the buns with the egg wash and bake until golden, about 10-12 minutes.


If desired, brush tops of the warm buns with melted butter and top with grated cheese and fresh herbs.


Buns are best enjoyed the day they are baked, but will keep at room temperature for 3 days. They also freeze very well. Wrap tightly in foil and freeze for up to 1 month. Warm in a 350°F oven for 30 minutes until warm.


For step by step photos and instructions >> see blog.


Recipe created by Completely Delicious.