Batterway Spice Puffs
"They reminded me a bit of donut holes, except that they aren't fried! Paired with some fresh fruit, they also are a great addition to a weekend brunch." Jen S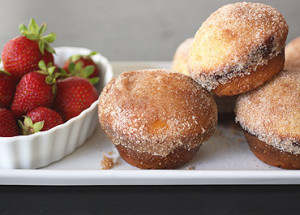 Ingredients
Dough
4½ tsp Red Star Active Dry Yeast
½ cup water
½ cup Milk
6 TBSP sugar
½ tsp salt
¼ cup shortening, soft
½ tsp mace
½ tsp nutmeg
3¼ cups bread flour
2 eggs
½ cup melted butter for roll tops


Cinnamon-Sugar Mixture
½ cup sugar
1 tsp cinnamon
Instructions
This recipe is featured at My Kitchen Addiction.


Have water and milk at 110°-115°F and all other ingredients at room temperature.


Dissolve yeast in the warm water. Pour milk over sugar, salt, shortening and spices in a large bowl. Stir until slightly cooled. Add ½ the flour, yeast-mixture, and eggs. Beat 2 minutes with electric mixer on medium speed, or by hand until smooth. STOP MIXER. Add the rest of the ingredients and beat again with a spoon until smooth...1 to 1½ minutes. Scrape down batter from sides of bowl. Cover. Let rise in warm place until doubled...about 30 minutes. Meanwhile, grease muffin cups.


Beat down raised batter in about 25 strokes. Fill muffin cups half-full. Tap pans on table to settle the batter. Let rise until batter reaches tops of cups...about 20 to 30 minutes. Bake 10 to 15 minutes or until well browned on sides and tops, in preheated 400°F oven. Tip puffs in pans until slightly cooled. Dip tops and sides of puffs quickly in melted butter, then roll in Cinnamon-Sugar mixture. Serve warm.


*You can substitute Instant (fast-rising) Yeast in place of Active Dry Yeast in batter/no knead recipes. When using Instant Yeast, expect your batter/dough to rise about 50% faster. Adjust your rise times accordingly. Traditional methods: use equal amounts; Bread Machine: use ½ tsp Instant Yeast OR ¾ tsp Active Dry Yeast per cup of flour in your recipe. Visit our Lessons in Yeast & Baking for more information on baking.