Baked Reuben
The traditional Reuben sandwich makings - corned beef, sauerkraut and Swiss cheese - top an onion-caraway flavored rye dough. An easy to make luncheon or supper entrée. Serve with a vegetable or salad.

This recipe makes 4 to 6 servings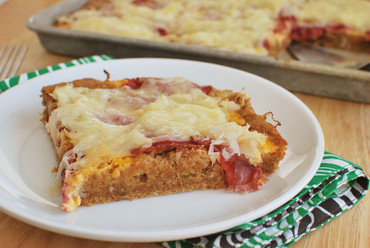 Ingredients
1 cup Bread Flour
2+1/4 tsp Active Dry Yeast
2 tsp Instant minced onion
1+1/2 tsp Caraway seeds
¾ tsp Salt
¾ cup Water
2 TBSP Dark molasses
2 TBSP Oil
1 cup Medium rye flour
¼ cup Mayonnaise or salad dressing
2 TBSP Horseradish mustard
½ lb. Corned beef, sliced, torn into bite-sized pieces
1 can (8 oz.) Sauerkraut
4 ounces Swiss cheese, sliced, cut in half
Instructions
Recipe featured at Fake Ginger.


Drain sauerkraut while preparing dough.


In large mixer bowl, combine 1 cup bread flour, yeast, onion, caraway seed and salt; mix well. Add warm water (120-130°F), molasses and oil to flour mixture. Blend at low speed until moistened; beat 3 minutes at medium speed. By hand, gradually stir in rye flour to make a stiff batter. Spread in greased 1½-quart shallow baking dish. Combine mayonnaise and mustard; spread over dough. Cover; let rise in warm place until almost doubled, about 20 minutes.


Sprinkle corned beef over dough, then sprinkle sauerkraut over beef. Place cheese slices on top, overlapping edges. Bake at 375°F for 30 to 35 minutes until cheese is melted. Serve hot.


Baker's Tip: Remove any remaining servings from pan, wrap foil and refrigerate. Reheat at 300°F for about 15 minutes.


You can substitute Instant (fast-rising) in place of Active Dry Yeast in batter/no knead recipes. When using Instant Yeast, expect your batter/dough to rise faster - about 50% faster. Adjust your rise times accordingly. Traditional methods: use equal amounts; Bread Machine: use ½ tsp Instant Yeast OR ¾ tsp Active Dry Yeast per cup of flour in your recipe. Visit our Lessons in Yeast & Baking for more information.